Quincy Amarikwa hits his first of the season.
The Colorado Rapids shut out Chivas USA for the fourth consecutive time, allowing the reigning MLS Cup champion to escape California with three points in tow.
The win came without Omar Cummings (international duty) and Conor Casey (calf) in the starting lineup, though Casey did see the final few minutes. In their stead, Quincy Amarikwa scored the game's only goal and former Hull City striker Caleb Folan made his MLS debut.
First Half
In a reserve match during the week, coaching duo of Robin Fraser and Greg Vanney ended up playing in central defense together. Injury and absences in that position continued to plague the club, with Ben Zemanski deployed out of position next to Jimmy Conrad in the heart of the defense.
The move did not pan out well for the Goats. Zemanski, who had played in the position once during preseason, allowed Amarikwa to slip behind him just as Jamie Smith played a slide-rule pass in from the flank. The 23-year-old easily outpaced the Chivas USA backline, toe-poking the ball past the onrushing Zach Thornton, and passing the ball into the back of the net.
Earlier, Blair Gaven had gone down with a hamstring injury. The Goats headed into the half with very little to show for their first 45 besides a one-goal deficit and an injury.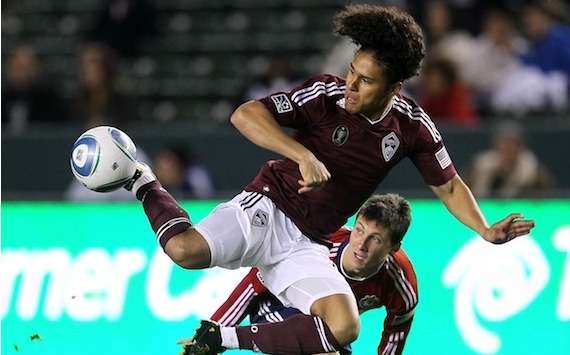 Second Half
Colorado very nearly doubled the lead early in the second half. A corner fell kindly to Jeff Larentowicz in ample space. Big Red slammed the ball on net, but it hit Michael Lahoud on the line and tricked out. The referee ignored Colorado's pleas for a penalty, judging that Lahoud hadn't used his arm to keep the ball out of the goal.
Justin Braun created the Goats' best chance shortly after, with a cross that deflected off Anthony Wallace. Matt Pickens managed to parry the ball onto the bar before it was cleared.
The frustration boiled over for Braun with 15 minutes left to play. The barrel-chested striker was whistled for a foul on Marvell Wynne. Both Braun and Brian Mullan had already thrown themselves into a challenge, however, and the pair collided. Braun didn't take kindly to Mullan's body check, and hurtled the former Houston Dynamo to the ground to earn a yellow card.
Both clubs will take part in U.S. Open Cup play next.
Follow Goal.com on

to get the latest soccer news directly. Check out Goal.com's

page; be part of the best soccer fan community in the world!