It's make-or-break time in the playoff hunt.
On Form
Chicago Fire
: Goalkeeper Sean Johnson has proven that his first few games were no fluke. It seems as though he makes at least one massive save every game and the Los Angeles Galaxy - Chicago game over the weekend was no exception. The youngster from Georgia made a great save in the first half on Landon Donovan's penalty kick, and then made another quality block late in the game to preserve the tie. With the defense being suspect at times, the Fire will need Johnson to continue his excellent play.
Toronto FC
: TFC's loss on Saturday night to FC Dallas certainly was not for want of effort. The club, after falling behind right at the outset of the second-half, pressed hard for an equalizer until the final whistle, but it just wasn't to be. O'Brian White showed a level of commitment that, up until Saturday night, was completely foreign to his game this season. He was abuzz for the entire 90 minutes and didn't dog a single ball. The exertion put forth by the striker was a refreshing surprise, as was Mista, who found himself more involved in the Dallas match than he had been at any other point during his Toronto tenure. As is now the norm, Dan Gargan was again a workhorse for the Reds, transitioning back and forth from defense and into the midfield.
Off Target
Chicago
: While he certainly was not spectacular this past week, I am going to lay off Nery Castillo for a week and pick on the Fire defense as a whole. Time after time it seems as though Chicago shoots itself in the foot with suspect marking a tackling. The worst part is that it seems as though the defense is more mistake-prone late in the game. Several times this season the Fire has literally thrown away points at the end of the game and, if they do not make the playoffs, they will certainly look back with regret on Omar Gonzalez's late goal among others.
Toronto
: While Saturday night might have been a moral victory for the Reds, it wasn't an actual one, and that's all that matters right now. It's a foregone conclusion that, if Toronto plays on the road, they're going to drop all three points.
Toronto made one glaring error on Saturday night, when miscommunication between Adrian Cann and Nick Garcia allowed Marvin Chavez to stay onside in the 46th minute and set up Jeff Cunningham for the match-winning goal. Dallas also made one major blunder that afforded White a free header with a frozen Kevin Hartman at his mercy. White headed over. That was the difference: the Hoops struck when opportunity knocked, but the Reds did not. Frustrating as that is, it can't come as any surprise when considering how consistently poor Toronto's ability to finish has been this season.
Tactics
Chicago
: Chicago should have most all of their players available on Wednesday, so it will be interesting to see what De los Cobos does with Freddie Ljungberg, Marco Pappa, Patrick Nyarko and Brian McBride all at his disposal. Also, with Collins John scoring a goal last game, don't be surprised to see him start with Ljunberg up top, because the Fire has to score goals no matter where they come from.
Toronto
: MLS scheduling did Toronto no favors this past weekend, as international duty deprived the club of three starters in Dwayne De Rosario, Julian de Guzman, and Nana Attakora. All three remained in Toronto for Canada's friendly with Peru. What must have incensed Preki, though, was that Attakora did not play a single second of the match. The trio has been returned to the club and will dress in Chicago.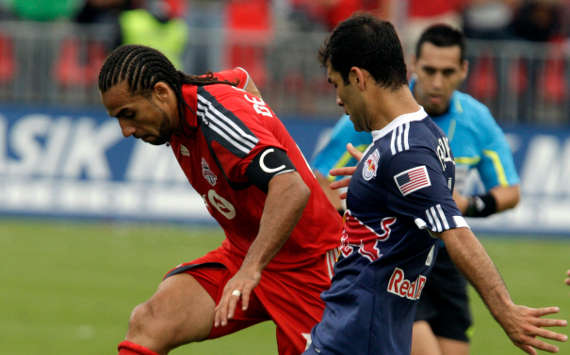 Martin Saric, however, will not be available, as he needlessly picked up a second yellow late in Saturday's match and becomes the latest in a parade of Toronto suspensions. For the sake of brevity, I didn't go into Toronto's indiscipline in the "Off Target" category, but right now, just as an away loss is a given, so too is another Toronto suspension.

Intangibles
Chicago
: The loser of this game will have a nearly insurmountable deficit to climb to make the playoffs. While Chicago has been inconsistent all year long, Toronto started very strong but has since dropped off and is struggling. This is a must-win game for both teams, so expect the game to be extremely physical.
Toronto
: Simply put, a loss to Chicago and the Reds' playoff hopes go up in flames (no pun intended). If ever there were a time for road points to stop flowing away freely like lies in a Roger Clemens testimony, now is that time. Oh, sure, the Reds can lose on Wednesday and go ahead and run the table and make the playoffs, but realistically, this is it. Three points are a must.
Outcome
Chicago
: The Fire should win this one at home 1-0.
Toronto
: Both teams split the points in a 1-1 draw, allowing TFC to keep hope alive/prolong the inevitable (take your pick).
For more on Major League Soccer, visit Goal.com's MLS page and join Goal.com USA's Facebook fan page!