The Fire host Seattle in their first match under new coach Frank Klopas.
On Form
Seattle Sounders FC:
Defender Patrick Ianni and midfielder Lamar Neagle each scored in Seattle's 2-1 road victory over Real Salt Lake. It was the Sounders' first multi-goal game since April 30th, and Real's first home loss in 29 matches. Midfielders and defenders have accounted for 12 of the team's 16 tallies in 2011, with midfielder Brad Evans the team leader with four goals. Despite the lack of production from their forwards, Seattle holds down second place in the Western Conference tied with FC Dallas.
Chicago Fire:
Drastic changes came Monday after the club announced the firing of head coach Carlos de los Cobos. Frank Klopas will take over as interim head coach and mentioned that the club will make minor changes for improvement. That said, consistency is a continuous necessity for this team. The departure of Marco Pappa for the Gold Cup certainly is a big loss but replacement winger Patrick Nyarko is slowly returning to action. One thing that can be hailed and considered in form is the team's everlasting energy and hunger throughout the 90 minutes of play.
Off Target
Seattle:
Maligned forwards Nate Jaqua and Fredy Montero failed to break out of their scoring slumps in the RSL matchup. The duo earned points for their assists on the tallies by Ianni and Neagle, as the Colombian Montero started the game as a substitute. In the previous match, head coach Sigi Schmid called him out for his lack of production. Schmid's tirade may be exactly what's needed to get Montero back on track. Jaqua, who had offseason surgery on his groin, may simply need return to full fitness in order to regain his goal scoring touch.
Fire:
Although the Fire continue their run of late, inspiring comebacks, their luck keeps falling short. Early goals conceded are ongoing and keep depriving the Fire from collecting full points. Already at a club winless streak record, the Fire's defensive side of the game has to tighten up. Goals are coming, however too many silly ones are let in. The club is currently at 19 goals conceded in 11 games averaging 1.73 goals against per game. Inevitably, if Seattle's attack is kept at bay, the Fire should be able to claim its first win since March.
Tactics
Seattle:
Schmid's tactics of playing three forwards up front and using his outside backs to get the ball deep have yielded statistical results. The forwards are getting their opportunities. As a team the Sounders lead the league in shots (194), and are second in shots on goal (64) and corners (77). Seattle's problem may require more patience rather than a change in tactics to convert those chances into goals.
Fire:
Interim head coach Frank Klopas has revealed that he'll stick to the 4-4-2 the team used in preseason. Sean Johnson will feature in goal, Ristic-Gibbs-Cuesta-Segares in the back, Paul-Pause-Paladini-Oduro making up the midfield, with Diego Chaves and Cristian Nazarit paired up top. This will be an attacking Fire side with speedy firepower balanced around the pitch. There is a slim chance Patrick Nyarko might feature off the bench but by the looks of it, this is as close as of a projected lineup as we can get. Klopas wants small tweaks in the squad, therefore we won't be introduced to new tactics right off the bat.
Intangibles
Seattle:
The Sounders face a squad that fired head coach Carlos de los Cabos earlier this week. Chicago has won one game all year long, and Seattle cannot afford to take this team lightly. Replacement Frank Klopas takes over the managerial responsibilities, and he'll be motivated to turn around the Fire's dismal record.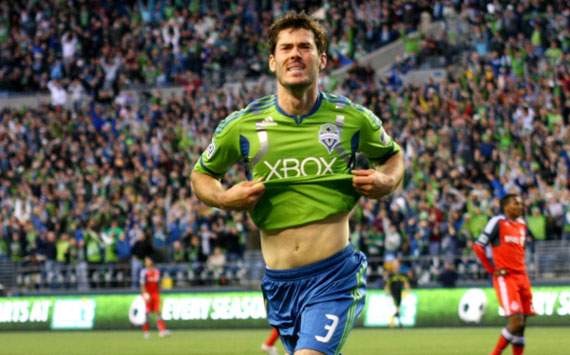 Brad Evans | Leads the Sounders in goals with four
Fire:
The coaching transition was presented to the media as smoothly as possible, but in reality, we never know how things might go. It remains to be seen whether or not the players will adjust to the absence of de los Cobos.
Prediction
John Zielonka:
Changing coaches isn't enough to reverse Chicago's fortunes. Chicago Fire 0–2 Seattle Sounders FC. Scoring for the Sounders are Montero, who breaks out of his scoring slump, and Evans.
David Gubala:
The Men in Red will finally put their winless streak to an end by beating Seattle 2-1. A late goal from Logan Pause will seal the deal in Chicago.
For more on Major League Soccer, visit Goal.com's MLS page and join Goal.com USA's Facebook fan page!