Can Chicago continue its positive play under Frank Klopas, or will Salt Lake shake off the rust?
On Form
Chicago Fire:
The Chicago Fire is running a five-game unbeaten streak and subsequently seem to be reaching its much needed turning point of the season. Sean Johnson was forced to pick the ball up from the back of the net versus the Revs for the first time in 334 minutes. The sophomore goalkeeper managed to maintain three straight shutout performances, and helped collect significant points. Dominic Oduro seems to be most dangerous for the Men in Red at this point in the season. The versatile Ghanaian successfully transitioned last Saturday from his midfield role to pair up front with Diego Chaves and even nodded in a goal to add to his tally of four goals and two assists.
Real Salt Lake:
With RSL mired in the same mediocre soccer that we've seen for the past month, partly because it has been decimated by injuries, perhaps the best thing Real has going for them right now is that reinforcements are on the way. Will Johnson is back from the Gold Cup and saw a few late minutes against D.C. Alvaro Saborio and Arturo Alvarez are also returning to shore up the depleted forward corps.
Off Target
Chicago:
With the departure of Gaston Puerari, more questions arise as to where the goals will come from for the Fire. Dominic Oduro seems to be turning into a good striking fit but additional attacking cushion will almost inevitably be needed if playoffs are in mind for Klopas & Co. Another interesting point to bring up is the Fire's trouble with the woodwork. The Fire hit either the post or crossbar a total of seven time this season. 'Unlucky' may be the best way to describe it all but those occasions could've very well been game changers as the Fire concluded the majority of their performances with a draw or one goal margin. We'll find out Wednesday whether or not lady luck will assist the Fire versus RSL.
Salt Lake:
Chris Wingert had a bad 10 seconds in the 85th minute against D.C. Not only did he give up the game-tying PK on a foul he didn't commit, thanks to an egregious dive by Charlie Davies, but he also pulled his hamstring on the play. With only four days rest before the Fire match, we'll have to see if Wingert is able to go. And Fabian Espindola, who has been the heart and soul of the team lately, also pulled up with a lame hamstring. Not what RSL needs in this busy stretch.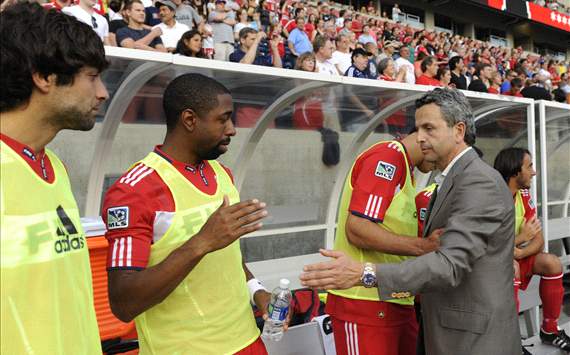 Tactics
Chicago:
In awareness of Real Salt Lake's unique attacking ability, Klopas might very likely use a 4-3-3 in this one. Johnson in goal, Segares-Gibbs-Cuesta Anibaba in the back, Pappa, Pause, Nyarko in the midfield, with Nazarit, Oduro, and Chaves making up the three man striking force. Sean Johnson will have to make sure his backline plays the performance needed to limit RSL's capabilities while captain Logan Pause will have to seek opportunities early in the first half.
Salt Lake:
If Wingert can't go on Wednesday, it's a pretty sure bet that Robbie Russell will slide into his spot opposite Tony Beltran. The lineup might get more interesting at forward, though, especially if Espindola is out. I think it's doubtful that both Saborio and Alvarez will start at forward right away, so you may see one of them paired up with Jean Alexandre, who would likely be making his last start up top.
Intangibles
Chicago:
Gold Cup returnee Marco Pappa will likely feature for the Men in Red in the starting XI as he looks to contribute on the club side of his so far impressive season. The Fire are 5-3-4 all-time against RSL and dropped both meetings in 2010. It's important that momentum carries on for the hosts as the try to collect their second home win of 2011.
Salt Lake:
Chicago has not been kind to RSL historically, and it will be that much harder this time given the short week. Hopefully, losing two points on a bad call gets this team a bit angry because they are better when they play with intensity. Kyle Beckerman in particular was really upset after the last match - now would be a good time for him to step up.
Outcome
David Gubala:
The Fire will score late to collect all the points in a 3-2 stunner.
Jeremy Horton:
This team looks a little tired and beat up, so I'm not optimistic that they can go into a tough environment like Chicago and pull off something great. Real Salt Lake 0-1 Chicago Fire.