Canucks ready themselves for a do-or-die match against Panama in Kansas City.
As it stands now, Canada is on the outside looking in at its CONCACAF Gold Cup group. Sitting in third place behind Panama and the United States, the Canucks simply must get a result in their final match of the first round if they want to avoid the tournament's two top teams in the next phase.
Slated to play group-leader Panama at LIVESTRONG Sporking Park in Kansas City, Canada really can't settle for anything but all three points. Midfielder Terry Dunfield understands what's at stake when he spoke to Canada soccer's official website.
"We've set ourselves up for a big one," said Dunfield. "We'll have to be on our mettle to get a result. I know all of the boys really want to progress out of this group and put a stamp on this tournament."
Causing this conundrum for Canada and the USA to boot was a Panama team that emphatically beat the hosts in Tampa, giving them six points from two matches. With Canada and the USA both with three points, it's likely that they will vie for second place in the group.
Making matters worse is the fact that the Canadians goal differential is a -1 at the moment after only beating minnows Guadeloupe 1-0 in a match that Dunfield says should have seen a more gaudy scoreline.
"On another day we could have had two or three goals," said Dunfield. "I think you have to give Guadeloupe credit. Defensively they were hard to break down. Sometimes you need that little bit of luck, other times you have to be a little bit more patient."
Dwayne De Rosario, the man who scored the winner from the penalty spot, echoed Dunfield's comments in saying that his side deserved credit for holding its lead.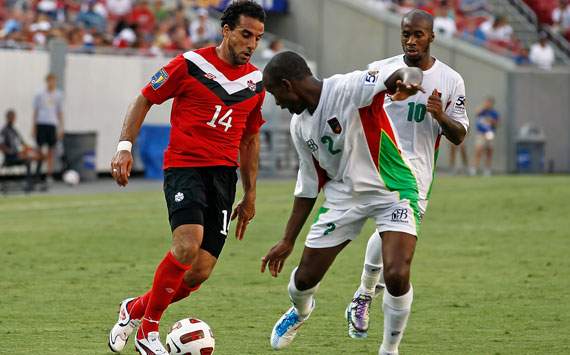 "They created some pretty good goal-scoring opportunities," De Rosario said. "At the start of the second half, we started flat and they almost scored a goal. The main thing was we didn't lose our heads in the game. We didn't let them get us a red card."
The team's last opponents, Panama, has proven to be quite a handful as the United States found out on Saturday night in a 2-1 decision. Fast and devoted, La Morea Roja will try to test Canada early and often, particularly if they stick with recently promoted goalkeeper Milan Borjan, who replaced Lars Hirshfield in Stephen Hart's starting eleven.
Slated for a 7 p.m. ET kickoff on Tuesday, the Canucks realize what's at stake and will go into it expecting to knock off a surprising first-place Panama team.