The Andalucians will try to stop Barca, who are heading into a vital week.
Tough Assignment
There's little over a week before El Clasico, and Pep Guardiola's Barcelona side will be anxious not to fall any further behind Real Madrid in the Primera Division standings before that titanic tussle takes place. In domestic terms, only Almeria lie between la Blaugrana and next weekend's grand crescendo.
The Andalucians are by no means punching hard in the top flight at present. Juan Manuel Lillo's side have picked up a paltry nine points to date and have yet to win at home, although they've also only lost one of their five fixtures at the Estadio Mediterraneo this season.
Last weekend was something of a low for the southerners, who went down 1-0 away to Athletic Bilbao. It was not the result that was embarrassing, more the way the game panned out. By the time the full-time whistle blew, Almeria had been playing against nine men for over 20 minutes.
But in some ways this fixture comes at a perfect time – if there is such a thing when facing the Catalans. They've had almost a week to prepare for this clash virtually uninterrupted, while Barca's players have been scattered the world over on international duty. Additionally, their opponents play two huge games over the following nine days, so if they are to make a faux pas, it could come in Saturday's match.
Perhaps it is clutching at straws, but against such formidable opposition any comfort should be readily taken.
Perfect Travelers
For Barcelona, they are in the very meat of their campaign. Vital fixtures are being thrown at them both domestically and in Europe, though coach Pep Guardiola's training regime is geared up to having his players at the peak of their physical powers at exactly this time of year. When January comes around, they may be on the wane, but the demands on them won't be so great and they will simply be breathing in ahead of another titanic effort in the spring.
At present, each fixture that Barca play has a great deal of meaning. Last weekend they were handed their first true test of stature in La Primera Division this season, but they passed this challenge emphatically, claiming a 3-1 victory over Villarreal in a match punctuated by controversial refereeing decisions. Goals from David Villa and Nilmar had the game square at half-time, but a couple of strikes from the red-hot Lionel Messi in the second half decided the fixture.
"We knew that it would be difficult, but we've got a lot going for us," captain Carles Puyol explained after the game. "There are times when we have been too busy protesting to the referee, when we should focus on the game. These are rare moments. however. We must always try to train hard to become better."
Already the sniping before El Clasico has commenced, but Barca will have to be perfectly focused on Saturday's game if the outcome is to be as comfortable as Guardiola would hope. The longer la Blaugrana can cruise at the weekend, the more energy they'll have for awkward forthcoming hurdles.
With five wins on the road under their belt in five Primera Division matches, the Catalans will be odds on favorites to extend their perfect record.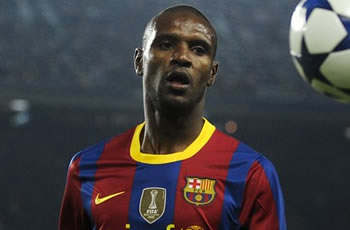 TEAM NEWS

Almeria
Albert Crusat is a doubt due to a hamstring injury, while Modeste M'bami hasn't trained fully this week either.
Striker Kalu Uche, meanwhile, was expected to play for Nigeria against Iran, though it was canceled at the last moment.

Barcelona
Eric Abidal has returned from international duty with an injury, so he will be on the sidelines along with Gabriel Milito and Jeffren Suarez. Maxwell should therefore start in the left-back role.
Jose Manuel Pinto, Thiago Alcántara, Andreu Fontas and Sergi Gomez are involved in the 19-man panel, but all require late fitness tests.