Played
April 2, 2012 8:00 PM EDT

Mexico 2-1 Honduras (AET): Miguel Angel Ponce knocks home the winner in extra time
In the CONCACAF Olympic Qualifier final, El Tri was able to overcome a one-goal deficit to pull out a late victory against the tough Central American squad.
By Alex Labidou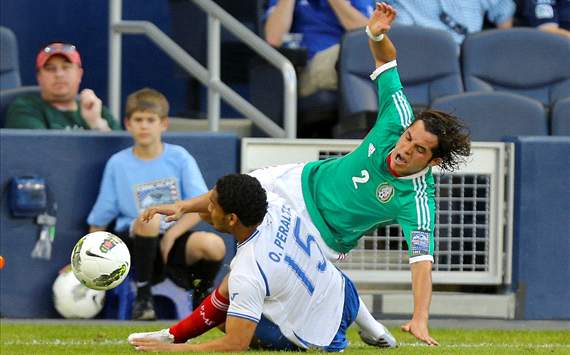 Updated: 12:24 p.m. ET

KANSAS CITY, Kan -- Miguel Angel Ponce sure enjoys the left side of the penalty box.

Ponce scored a side-footed volley from that spot in the 116th minute to secure Mexico's Under-23 team a 2-1 extra time victory over Honduras in the CONCACAF Olympic qualifying tournament final.

The Chivas Guadalajara left back said after the game Mexico didn't want to go to penalties.

"We didn't want it to go that far, we thought we could get it done[during extra time]," Ponce stated.

Romell Quinto scored for Honduras in regulation before Marco Fabian tied it up late in the second half.

With both sides already qualified for the summer games, the match was more about pride than anything else and neither team disappointed.

After losing 3-0 to Mexico during the group stages, Honduras responded by operating more defensively in the first half. While El Tri was able to get into the box a few times, the Central American side was good at making key interceptions and snuffing out the attack even if it meant some strong fouls.

Honduras registered 10 fouls in the opening 45 minutes and earned four yellow cards. In the second half, the game opened up and Honduras got even more physical.

Quinto took advantage of some poor defending in a set piece to score a header in the box set up by a free kick in the 48th minute to give Honduras a 1-0 lead. For the next 30 minutes, it looked like Los Catrachos might hold on to the lead as Jose Mendoza and the defense responded with several stops.

With Honduras playing stingy defense, it would take a magical play to get to the back of the net, and Fabian responded to the challenge. The attacking midfielder launched a powerful shot from 30 yards out that beat a diving Mendoza to level the game at 1-1.

Honduras' defense was clearly frustrated as moments later Luis Garrido received his second yellow card for brutally tackling Fabian. The Mexico midfielder had to be stretchered off the field for several minutes before returning.


While Honduras was able to hold off Mexico in the first extra time period thanks to the heroics of Mendoza, El Tri was too much to handle in the second extra time.

Similar to his play against Canada, Ponce silthered into the box without much defensive attention. After receiving a quick cross, he volleyed the shot in to seal Honduras' demise late in extra time.

Ponce admitted that he was surprised that no one marked him.

"I don't know, it just happened," he said. "It was only me and I scored"

Once again, Honduras showed its frustration by having another player sent off. This time it was Wilmer Crisanto who received his second yellow card.

When the game came to an end, the players celebrated with the fans who sang, "Si, Se Puede," which means "Yes, we can" in Spanish. With Mexico's strong showing in qualifying, there's a good chance that El Tri can turn heads in London this summer.

Live Final scheduled Suspended Cancelled Postponed