Played
March 31, 2012 9:00 PM EDT
LIVESTRONG Sporting Park — Kansas City, Kansas

Top of the Match
Flop of the Match
Mexico 3-1 Canada: Mexico earns spot in London with dominant win
Mexico dominates Canada and earned a trip to London with a 3-1 win on Saturday night.
By Alex Labidou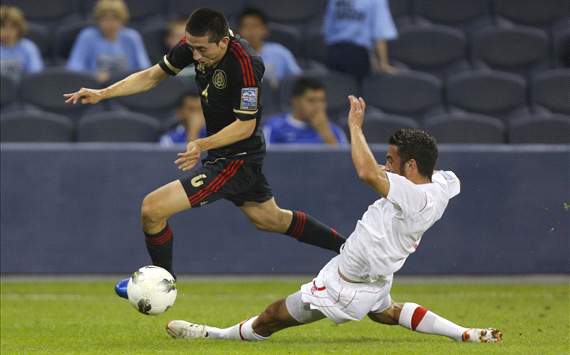 Updated: 12:23 a.m. ET

KANSAS CITY, Kan -- United States fans might not enjoy hearing it but there will be an American playing in the Olympics.

California native Miguel Angel Ponce ended Canada's dreams of playing in the 2012 London games with a stunning strike to seal a 3-1 win for the Mexico Under 23s. El Tri can also thank its No. 10 for securing Mexico's 10th appearance in the Olympics. Marco Fabian scored a goal and assisted on the team's second goal by Alan Pulido. Canada's Marcus Huber scored for the losing side.


Ponce admitted that his goal calmed down a match that was very competitive.

"It was a nice goal, with that goal we calmed down everything," Ponce said.

Follow ALEX LABIDOU on



While the scoreline suggests that Mexico dominated the match, Canada gave the team some trouble early. The Canucks used athleticism and a physical advantage to give it an edge in set pieces both on offense and on defense. Canada had several chances to put itself ahead by a goal or two in the opening minutes. In the best of its early opportunities, team captain Nana Attakora-Gyan saw his goalbound header blocked by a goal line save.

Ponce admitted that Canada exceeded Mexico's expectations on the field.

"Yea it was closer than we expected but as always we played a nice [style] of football," he said.

When Pulido missed a sitter in the 13th minute, missing a clear cut chance on a one on one opportunity against Canada's goalkeeper Michal Misiewiscz, it looked like Canada might take an early lead. Then Fabian got involved.

The 22-year-old forward received a long ball pass from the midfield and beat the offside trap with only Misiewiscz ahead of him. The goalkeeper came out from the goal posts and Fabian buried the shot from inside the box.

Canada would respond moments later with a goal of its own. Taking advantage of his size, Haber beat his defender and headed in a ball to level the game at 1-1 in the 33rd minute. That wouldn't last long though.

Two minutes later, Fabian gave Pulido a chance to redeem himself for his earlier blunder. The forward found his striker partner running into the box and Pulido finished in a similar fashion to Mexico's opening goal.

Canada opened the second half looking to find the leveling goal but Ponce had other plans. The left back was given space by the Reds defense and he dribbled into the box and finished with a precise strike that hit the upper right corner of the goal. The goal sucked the life out of Canada and the side was clearly frustrated after. Canada's Doneil Henry was shown a red card in the 77th minute to put matters to bed.

After a eight year absence from the Olympics, Mexico returns to the competition as a potential dark horse for the Gold Medal. The team features several young players that are coveted by major European clubs including Fabian, Erick Torres and Pulido. Canada's head coach Tony Fonseca agrees with the growing opinion that Mexico can be a dangerous team.

"I think Mexico's a very strong team, they play an almost perfect counterattack," he said. "I think they can have a very good run."

Fabian agrees with Fonseca's opinion but adds that success will come only if the team is focused and willing to work.

"We've demonstrated that we always have to think that we're ready to win a medal and compete with anyone," Fabian said. "Now we have to work hard."


Live Final scheduled Suspended Cancelled Postponed