An entertaining game saw over 40,000 fans witness the 2-2 draw between San Jose and New York.
STANFORD, Calif. – The San Jose Earthquakes and New York Red Bulls put on a show befitting the holiday weekend on Saturday night at Stanford Stadium, playing to an entertaining 2-2 draw. A brace from Joel Lindpere sandwiched two goals from the Earthquakes, with Khari Stephenson and Steven Lenhart netting for the home side.
Despite going down to an early goal, the Earthquakes were disappointed to come away with just a point, as they had overcome a lackluster first half performance to take a 2-1 lead into the 85th minute, only to concede a late equalizer.
"I thought we played well second half. First half we were not at our best, but we were still in the game, 1-0 down," remarked Earthquakes head coach Frank Yallop after the game. "In the end, very disappointed not to get the three points, but getting a point is obviously a point, though at home we didn't win, so it feels like a loss."
New York's quick ball movement and use of the wings proved too much for the Earthquakes to handle early on, It was no wonder, then, when a cross-field ball found Roy Miller, who crossed for Joel Lindpere. The Estonian midfielder brought it down awkwardly, but managed to evade the Earthquakes defense and poke it past Jon Busch.
New York continued to dominate the proceedings, and the Earthquakes caught a few breaks thanks to poor decision making and finishing from the Red Bulls. The inability to convert came back to hurt the Red Bulls in the 37th minute.
Bouna Coundoul dropped a routine corner kick, and Stephenson gratefully lashed home.
The Earthquakes looked more energetic in the second half, especially as the partnership between Steven Lenhart and Simon Dawkins started to click. Alongside Gold Cup returnee Chris Wondolowski, who featured at right wing, it was the first time that Frank Yallop saw what is likely to be his preferred attacking trio.
"I love playing with those guys, they're great players," said Wondolowski, though he did admit they were not at their best. "I think we would have liked to connect a little bit more passes. That being said, I still think we created enough opportunities to win the game."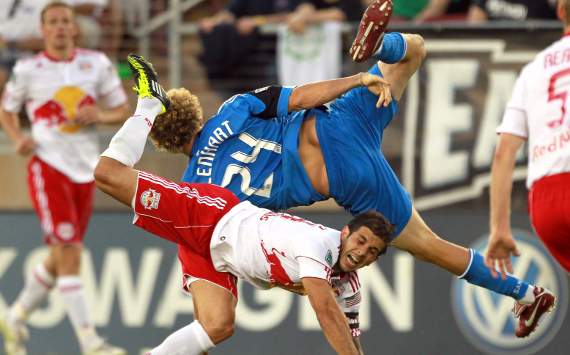 Tim Ream, another Gold Cup returnee, had a slightly less successful game, though. He had looked out of sorts through parts of the game, and the Earthquakes finally made him pay in the 68th minute. After some good industry in midfield from the Earthquakes, Steven Beitashour found himself bursting down the right flank. He centered for Steven Lenhart, who easily separated from Ream to score a near post diving header.
However, the Red Bulls' pressure paid in the 85th minute. Jon Busch pulled off two fantastic saves to deny Dane Richards and Lindpere, but the Earthquakes defense was static as Mehdi Ballouchy collected the rebound and passed to Lindpere at the top of the box, who found the back of the net with the aid of a deflection off Bobby Burling.
Burling's night took another downturn when he was ejected in the 91st minute after picking up his second yellow card for a foul on Teemu Tainio, making for a total of seven cautions handed out by referee Edvin Jurisevic, with six to San Jose and just one to New York.
For the Earthquakes, the point represents a fifth consecutive game unbeaten as the home team, while the Red Bulls will take heart in traveling across the country and earning a point. Both sides are in action during midweek games, with San Jose making the short trip south to Chivas USA, while New York hosts Toronto FC.
You can follow Nick Rosano on Twitter for more Earthquakes and MLS chatter @nicholasrosano.

Keep updated with Major League Soccer by visiting Goal.com's MLS page and joining Goal.com's

page.