Colorado travels to Crew Stadium for a Sunday evening clash with Columbus.
On Form
Colorado Rapids:
Omar Cummings is back, and the energy and confidence he brings to the Rapids is like water in a desert. The unrivaled partnership he has with Conor Casey is guaranteed to supply the defending champions with much needed goals. Marvell Wynne is also expected to be back. As arguably the fastest player in MLS, he will provide the Rapids with much needed defensive speed and energy.
Columbus Crew:
Bernardo Anor's performance in reserve matches and a long injury list gave the South Florida product a chance to display his skills on the senior level, and the 23 year old did just that against Houston. The winger assisted on Andres Mendoza's opener after dispossessing a Houston midfielder and beating another and scored his first MLS goal on the second time of asking after missing a sitter. While it is hard to judge his quality off of one league start, he has done well in Reserve League play, tallying two goals and assists. There was a buzz on draft day that Anor was a steal in the third round, and he is doing his best to prove he deserved to be selected much higher.
Off Target
Rapids:
Two words: left fullback. Whether it is Danny Earls, Scott Palguta, or Anthony Wallace, this back wing position has struggled moving the ball forward and getting back in time to defend. Coach Gary Smith has some tough choices to make on who to start against a strong Columbus Crew team.
Crew:
The Black and Gold traveled into the oppressing heat of Houston Saturday and surprised many by playing their best all around game of the season. The Crew have been inconsistent this season, partly due to the exodus of more veteran players. Young players are notorious for up and down play, and this Crew team is no exception. In Houston, the midfield had no player older than 24, that being Eddie Gaven. Add a couple of teenagers on the bench in Korey Veeder and Aaron Horton and you have one of the youngest rosters in the leagues. The growing pains that the team went through early in the season may have hurt in the short term, but the club's long term vision may be closer than expected if the young players can perform on a more consistent basis.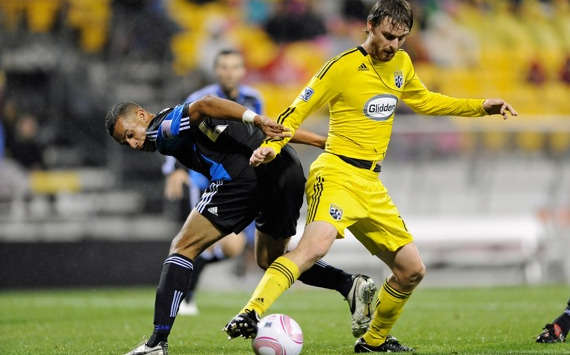 Gaven| Has been the veteran presence in the Crew midfield this season
Tactics
Rapids:
The Rapids have noticed Columbus' great fluency, and how they are gaining spirit in the race to the top. The Rapids hope to be creative in their play, not allowing the Crew to get comfortable. Profiting from the dynamic duo, they also plan to attack, making it difficult for Columbus to take the lead.
Crew:
Playing in 90+ degree heat is a nightmare for both players and coaches. Starting a rookie who had just returned from an injury and lacked match fitness in 90+ degree heat was a risky move by Robert Warzycha, but it paid big dividends as Bernardo Anor had a part in both the visitors goals. It was a piece of genius by the Crew boss, who did not follow form in his decision to play a more attacking lineup on the road. The three points gained in Texas may prove to be priceless in the race for a playoff spot because the Crew now are just two points out of the top spot in the East and have a three point lead on Houston with a game in hand.
Intangibles
Rapids:
With Brian Mullan's suspension over, and a complete and healthy squad, the Rapids are close to being at their strongest form this season. Hope has been infused into their pre-game drink, and Colorado is ready to make up for lost time.
Crew:
Colorado has actually fared better on the road this season, with three wins on their travels as opposed to just two in the altitude. The Crew meanwhile are by far a better team at home, with just the one loss this season, albeit in their last home game. This will also be the first meeting between the two clubs since the Rapids advanced on PK's in the 2010 MLS Cup playoffs, which Colorado would go on to win.
Outcome
Stephanie Gardner:
A match between two teams who are finally fit; it will be a nice three points for the Rapids, as they defeat the Crew 2-1.
Justin Henley:
A tight game between two solid defensive units. The home side will just have enough to win this one, taking the maximum in a 1-0 victory.
For more on Major League Soccer, visit Goal.com's MLS page and join Goal.com USA's Facebook fan page!