Sporting Kansas City looks to keep its six-game unbeaten streak alive
On Form
Vancouver:
Toblerone Triangle. The Triangle was in full effect last match with Davide Chiumiento, Eric Hassli, and Alain Rochat all having possibly their best games of the season and connecting beautifully for a MLS goal of the week candidate. With Chiumiento strutting around like head rooster, Eric Hassli thumping goals seen around the world, and Rochat bombing up the left wing to unleash his hammer of a left foot, defenses should be on full alert.
Sporting Kansas City:
The team continues to grind out results in a now six-match unbeaten streak and most of the credit has to go to the team's suddenly stout defense led by goalkeeper Jimmy Nielsen, who is having another great season. The club has scoreless draws in three of its last five matches, including a huge road point earned Wednesday night against Philadelphia at PPL Park.
Off Target
Vancouver:
Terry Dunfield. He's the Whitecaps lone player from Vancouver so I may have my passport revoked for saying this, but how is this guy a starter in MLS? His zest for life and love of playing footy is undeniable, but he is a step behind and has the ball control of an aardvark. Last game he found himself in his teammates' way often and made the Caps' giveaway of the season near the end of the game which really should have ended up in the back of the net. There was great video of Tom Soehn immediately turning to his bench after the giveaway and calling for Dunfield to get off the pitch. Dunfield doesn't seem to have the ability to anticipate the play and know where to send the ball before he gets it. With the transfer window approaching Dunfield's days as a starter must be numbered.
Sporting KC:
The team's lack of goalscoring has become a worrying trend, as they've scored more than one goal just once in their last nine MLS matches- a 4-1 win at FC Dallas that looks more and more like an aberration. Not only are forwards like Omar Bravo and Teal Bunbury failing to produce, but the team hasn't been able to find a midfield playmaker that's needed to jump-start the attack. With Ryan Smith now out for the season with family issues, the problem could get worse before it gets better.
Tactics
Vancouver:
Sporting isn't known for its goal scoring so if the Caps can sneak one they might walk away from this with points. Unfortunately it's difficult to pin Sporting with a statistical evaluation because of their crazy schedule: 14 games played, three at home. Let's hope the Caps don't spend the game admiring their new stadium for which the crazy schedule can be blamed. (4-4-2) Cannon, Leather, Boxall, Demerit, Rochat, Salinas, Dunfield, Koffe, Camilo, Chiumiento, Hassli.

Sporting KC:
The team is inching closer to full-strength, as Honduras' elimination from the Gold Cup means its lone remaining player on national team duty - Roger Espinoza - will be returning shortly. He won't be back in time for this match, so look for Seth Sinovic to continue starting at left back, with Aurélien Collin returning from suspension to partner Matt Besler at center back. Chance Myers seems to have unseated Michael Harrington as the starting right back for the time being.
Intangibles
Vancouver:
We all remember the last time these two teams played. Sporting went up 3-0 only to have the Whitecaps score two in extra time to tie it up at three. Camilo played hero that night and his goal glossed over a wonderful performance of Teal Bunbury, who also added a brace of his own. MLS loves its artificial rivalries so here is mine: Camilo v Bunbury. Both have two goals against each other but who will take home the trophy!?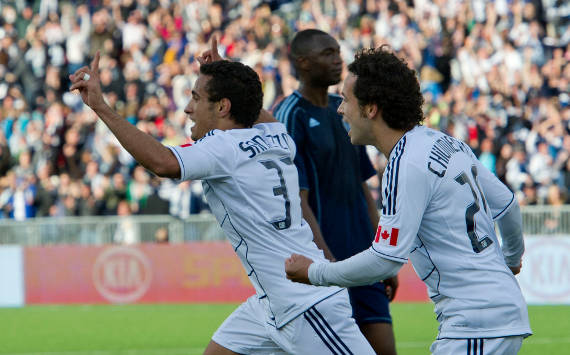 Camilo scored a memorable late brace in these teams' last meeting
Sporting KC:
Sporting hasn't had the opportunity to enter many games this season being the clear-cut favorite, but it will happen Saturday when the lowly Whitecaps visit LIVESTRONG Sporting Park. How will the team respond to its newfound success?
Outcome
Trevor Leach:
Livestrong is starting off like a fortress with no visiting team winning there yet. KC's goal scoring goes hot and cold and I say they stay cold. This ends in a nil-nil draw.

Seth Vertelney:
Sporting manages to sneak a goal past Jay DeMerit and the Whitecaps' defense, and holds on for a 1-0 win.
For more on Major League Soccer, visit Goal.com's MLS page and join Goal.com USA's Facebook fan page!