The Union look to bounce back from a loss in Vancouver against a resurgent KC side.
On Form
Philadelphia Union:
Philadelphia has an impeccable record at home; the club has not lost a single match at PPL Park so far this year. This is the single best strength the club has going into this match against Sporting Kansas City. While playing at home, Philadelphia has shown better communication and awareness on the pitch. This is evidenced by its lengthy time of possession in its last two home matches against Real Salt Lake and Chicago. Also, its consecutive 1-0 shutout victories at home to start the season further support this notion.
Sporting Kansas City:
Once the team's biggest weakness, defense is becoming one of its biggest strengths, with clean sheets in three of its last four MLS matches on the way to a season-high five game unbeaten streak. Aurelien Collin and Matt Besler have solidified their place as the starting central defensive partnership, while Chance Myers has added an attacking element at right back. New signing Seth Sinovic has also filled in well at the left back spot.
Off Target
Philadelphia:
A few weeks ago, Philadelphia had an offensive outburst against Toronto FC on the road. After this resounding result, it seemed Philadelphia's two weaknesses were finally resolved: generating offense and performing on the road. However, after this match, these two glaring weaknesses have come back to haunt them once again. In the three matches since the decisive victory in Toronto, Philadelphia has produced an underwhelming three goals. The club failed to secure any points this past weekend on the road against the Vancouver Whitecaps, a club that has struggled mightily this season.
Kansas City:
Sporting was expected to be a high-flying offensive machine this season, with the likes of Kei Kemara, Teal Bunbury and Omar Bravo in the attack, but it hasn't happened yet. The trio has combined for just eight goals between them this season, and neither Bravo nor Bunbury have found the net since the season's opening three matches. Bunbury has especially struggled, and appears to have lost his starting position to rookie CJ Sapong.
Tactics
Philadelphia:
Realizing the club is in need of an offensive spark, Philadelphia manager Peter Nowak will be looking for an offensive spark from Sebastien Le Toux and Danny Mwanga. These two were a powerful scoring tandem last season, and have added pressure to perform especially with forward Carlos Ruiz out due to Gold Cup commitments. Look for the two aforementioned to be starters in the forward positions in Philadelphia's familiar 4-4-2 set up.
Kansas City:
After a terrific performance against Earthquakes forward Steven Lenhart this weekend, Aurelien Collin will have to miss the match against the Union due to yellow card accumulation. Look for Julio Cesar to step into the starting lineup to partner Matt Besler. Meanwhile, the club announced Tuesday that midfielder Ryan Smith would miss the remainder of the 2011 season with family issues. Smith was a dynamic player for the team last season, but struggled to stay on the field this year with injuries. Still, his loss will be felt as he was one of the few players on the roster who could create his own offense.
Intangibles
Philadelphia:
We are in the middle of a very demanding week for the Union. The club just played on the road this past Saturday in the volatile city of Vancouver. After this match against Kansas City, it will be at home again against Chivas USA this weekend. It will be interesting to see what energy the players have and how this will affect their training going into the weekend.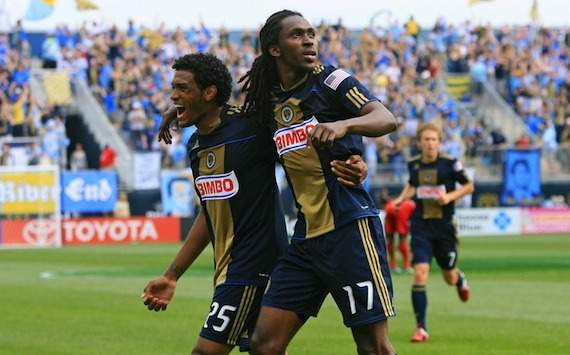 Kansas City:
Riding a five-game unbeaten streak, Sporting enters this match with more confidence than its had all season. The team's 4-1 victory at FC Dallas two weeks ago was huge, as it showed Sporting has the ability to win on the road. Getting any points at PPL Park will be another confidence builder heading into a stretch of four of five matches at home.
Outcome
Aamer Bajwa:
Despite their offensive struggles, Philadelphia will find a way to sneak in a goal in the second half for its staunch supporters in Chester. Kansas City has shown promise the last few weeks, but its lack of defense will rear its ugly head again in this match. Final score 1-0.
Seth Vertelney:
Losing Collin could prove too much to overcome at PPL Park. The Union wins this one 2-1.
Follow Goal.com on

to get the latest soccer news directly. Check out Goal.com's

page; be part of the best soccer fan community in the world!