Just seven hours after the United States faces Jamaica in Washington D.C., the Portland Timbers will host the New York Red Bulls. Goal.com breaks down the MLS matchup.
On Form
Portland Timbers
: After a good run of games, the Timbers are slipping back into reality - and to the bottom of the MLS table in the process. They are mired in a three-game losing skid, all one-goal losses, including two in a row of the 1-0 variety. After their most recent 1-0 loss (at home to the Colorado Rapids on June 11), the Timbers (5-6-2, 17 points) are now in eighth of nine Western Conference clubs.
New York Red Bulls
: New York finally severed its miserable six-match winless streak, defeating the New England Revolution 2-1 at home in Harrison, New Jersey. In the victory, Thierry Henry starred, forcing an own goal by Ryan Cochrane before sweeping down the left flank and finishing past Matt Reis to double the Red Bull lead. New York finally managed to create a lead that couldn't be overturned as a Zak Boggs' reply could be only considered a consolation tally for the visitors.
Off Target
Portland
: One member of the Timbers that helped propel them into relevance was defender Mamadou "Futty" Danso. Logging 842 minutes in 10 matches (all starts) for John Spencer's club, Danso proved he has some flair for the dramatic, netting a pair of goals - one which pulled his side even at Seattle, ending in a 1-1 draw, the other a game winner in a 1-0 triumph over Philadelphia. Danso's services will undoubtedly be missed, as the Gambian will be on the shelf for two to four weeks with a left shoulder injury.
New York
: New York's dip in form has been largely attributed to the deluge of absences due to international obligations. The Gold Cup has shredded Hans Backe's preferred lineup, the Swede having to insert players not quite ready for first team action into his starting XI. While the Red Bulls should be boosted by the return of Dwayne De Rosario from international duty, Luke Rodgers, Teemu Tainio, and Joel Lindpere could all miss out on the Portland proceedings.
Tactics
Portland
: If you were to describe the 1-0 loss to the Rapids last Saturday in a word for the Timbers: demoralizing. Losing 1-0 courtesy of a stoppage-time goal (Drew Moor, 92nd) is bad enough, watching as one of your teammates leaves the field on a stretcher (Danso, 32nd) is another thing. But all told, Spencer's club played a quality match in their 3-5-2 formation against a potent Rapids club. David Horst will likely hold the fort in Danso's absence, but to accommodate for the change - especially going into two tough matches with NY Red Bulls and FC Dallas - Spencer may want to add another defender to the formation.
New York
: Crafting a coherent midfield will be Backe's most difficult task. Don't expect any adjustments with his back-line or goalkeeper, but filling the voids in the center of the pitch and on the wings could be difficult if the aforementioned trio can't soldier on against the Timbers. In the worst-case scenario, John Rooney could make his starting debut for New York, which should be pretty interesting from a spectator's perspective. If De Rosario appears in Portland and Luke Rodgers stays at home, the Canadian international could be seen at his usual attacking midfield position or possibly alongside Henry up top.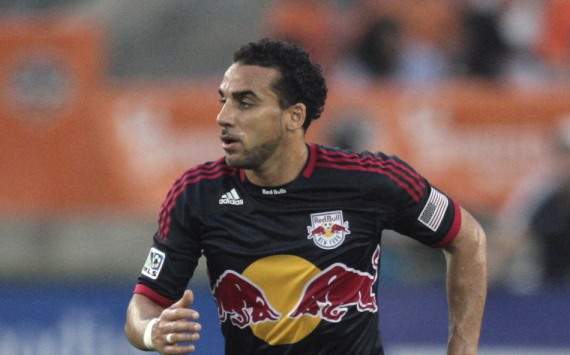 Intangibles
Portland
: Motivation and determination go a long way in sports. This weekend, the Timbers would be best suited if they let Jeremy Hall lead the club by example. Hall is a former member of the Red Bulls and will undoubtedly be out there to prove he was worth hanging onto. "You want to put a good performance on them and show them what they missed out on," said Hall in a report on MLSsoccer.com.
New York
: The knockout rounds of the Gold Cup have arrived, meaning that the Red Bulls who have gotten additional time during the past month will have their last opportunities to impress Backe. Most haven't seized their chances thus far so inspired performances against the Timbers will be essential if they want Backe to continue to give them nods once the regulars reappear.
Prediction
Giovanni Albanese Jr
.: Even with the home-field advantage at JELD-WEN Field in Portland, the Timbers are going to have a tough time with the Red Bulls. New York has 21 goals as a club, and a plus-eight goal differential which is tied for first in MLS. And the Red Bulls haven't lost in five matches. All signs are pointing to another tough defeat for the Timbers, this one a 2-0 loss.
Avery Raimondo
: New York has struggled away from Red Bull Arena this season and the absences might be too much to overcome. A draw at Jeld-Wen seems like a reasonable outcome.
Keep updated with Major League Soccer by visiting Goal.com's MLS page and joining Goal.com's

page.