RSL will play host to D.C. United on Saturday night.
On Form
Real Salt Lake:
After nearly three halves of pretty lackluster soccer, RSL turned it on over the final 45 minutes in Philadelphia. That little bit of extra effort that had been lacking was there, and the team managed to take it right to the Union in a pretty tough place to play. Fabian Espindola continued to be a huge bright spot for Real with his dangerous runs and tireless work rate. He was the focal point of the charge that led Salt Lake back from a deficit to earn valuable road points. Now, Espindola can't put RSL on his back and carry them through the rest of the year, but he's going to try.
D.C. United:
Andy Najar. It took a while for the 2010 Rookie of the Year to get started in 2011, but since the beginning of May, he has been one of United's better performers. Two goals against Seattle eclipsed his total for 2010, but he just finally scored his first goal of the season last weekend. The Black-and-Red would love more goals from the Honduran midfielder, but the inspired performances of late just might satisfy as well. United was lucky that Honduras passed over him for the Gold Cup this year.
Off Target
Salt Lake:
The inconsistency around this team is maddening. Just when you think the club has turned the corner, it takes another step back. A lot of that has to do with being forced to play so many young and inexperienced players, but some of the lack of effort we've seen is not normal for Jason Kreis' players, young or old. And that vaunted defense that everyone - including yours truly - was talking up a few weeks ago has quietly conceded five goals in its last four games. That's not terrible, but it's a troubling fall.
United:
Consistency. Not that a lack of consistency is a surprise, as the team has plenty of inexperienced parts on the field. However, coming off a good West Coast swing that saw United take four points out of six against Portland and Los Angeles, the team laid an egg at home against San Jose. Although it scored twice, it conceded four times, thrice to Steven Lenhart, who is known for everything but his goal scoring. The defense has been the most inconsistent group. During the five game unbeaten streak, it conceded just four goals. But in the two games before that streak, and the last game, the defense has leaked four goals in each game. Not so good.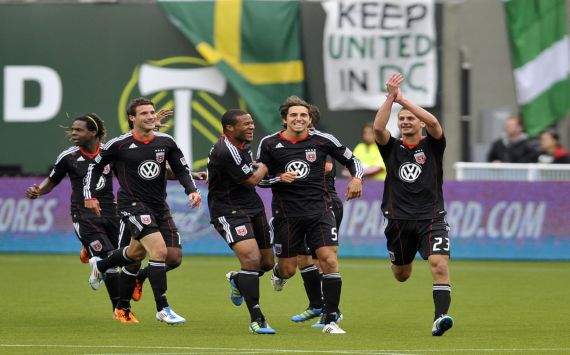 Tactics
Salt Lake:
RSL might finally be getting some relief at striker as Paulo Jr. may be back from injury. The young Brazilian tweeted that he will be back this week, though the team is still saying he's not quite ready, so it's tough to know what to make of it right now. Kreis brings his injured players back slowly, so I still expect to see Jean Alexandre starting up top with Espindola with Paulo Jr. coming off the bench if he's ready. If he's not, Artur Arghasyan should continue to see minutes in relief of Alexandre.
United:
Watch United once and it is interesting to see how the team gets Najar involved in the game. A lot of the attacks originate from the right through Chris Korb and Najar, but United also likes to move down the left, and then switch the field to Najar on the right. Surprisingly, when the ball is switched successfully, Najar finds himself in space, where he can create for himself and others. The best example of this was from last year, when he scored a goal from this switch against Houston. United likes to load up the left through build up play, just to create room for Najar on the opposite side of the field.
Intangibles
Salt Lake:
Coming back home and getting a full week's rest should be a big positive for Salt Lake. The players were visibly beaten by the heat and humidity in Columbus. That won't be a factor this week. And the coaching staff will be relishing the chance to get a few overworked players some time off, not to mention actually being able to hold a real training session and work on some things. Whenever Real has a mediocre road trip, it tends to respond by doing well when the team returns home.
United:
Real Salt Lake hasn't been the same side since its loss in the second leg of the CONCACAF Champions League Final to Monterrey. That might mean that RSL is finally primed to make a run -- as it does have one of the best squads in the league. But there is still a chance that United can exploit RSL as several other teams have in recent weeks to grab a surprise result.
Outcome
Jeremy Horton:
D.C. has got offensive weapons for sure, but the back line was a bit suspect last week. I expect Espindola to rally the troops to a good - but not flawless - effort this week. Real Salt Lake 2-1 DC United.
Steven Streff:
Expect to see a better effort from United after last week's horror show at RFK. But it won't be enough, and a goal in each half will be enough to see RSL win 2-0.
Keep updated with Major League Soccer by visiting Goal.com's MLS page and joining Goal.com's

page.