TFC will host the Sounders on Saturday night.
On Form

Toronto FC:
The Reds return home looking to keep the positive momentum going from a two game road trip that saw them earn a spirited draw against league leading L.A. Galaxy at the Home Depot Center last Saturday, following it up with a 0 - 0 showing at New England on Wednesday. Toronto is beginning to exhibit signs of progress after two less than inspiring home performances where the club struggled to escape with a goalless draw against road weary Sporting K.C. and the 6 - 2 shellacking at home to the Philadelphia Union the week before. The modest turn around can be primarily attributed to the return of forward Alan Gordon from a six-game absence due to a nagging hamstring injury. Gordon scored both goals in LA including the equalizer in second half added time. In both of the last two games, most of Toronto's effective offensive movements have come through Gordon's hold up play, showing his importance in the clubs attack.
Seattle Sounders FC:
It's hard not to like Osvaldo Alonso as a player. His mentality is everything a coach in Major League Soccer could want out of a holding midfielder, and when he tacks on goals it's just a bonus. Last week he did just that to give his team a lead late on. The lead didn't last, but his solid play will.
Off Target

Toronto:
In a season where positives have been hard to come by, TFC may be looking to turn the corner despite a revolving door lineup resulting from a combination of injuries to starters, players missing on international duty and Coach Aron Winter's continual experimentation with the roster. However there's a lot of work still to be done. The defensive form is at best inconsistent, often looking like it's on the brink of collapse. The patch work back line has begun to solidify on the flanks with Richard Eckersley providing solid form on the right, while Danleigh Broman has settled in on the left side. The center back duo of Ty Harden and 18-year-old rookie Doneil Henry is a concern. Harden is limited and Henry is raw despite showing some potential that has Toronto's die hard supporters optimistic. Goals have been hard to come by but a healthy Gordon will go a long way to changing that.
Seattle:
Fredy Montero, where are you? Goals are a problem in Seattle right now which would have seemed laughable coming into the season. But that was with the assumption that Montero would be good. He hasn't been, and the Sounder's haven't scored three in match since April. Luckily, that three-goal game was against Toronto.

Tactics
Toronto:
The midfield of Nathan Sturgis and Mikael Yourassowsky has looked very serviceable in the last two games filling in for Gold Cup participant Julian De Guzman and injured Tony Tchani. But expect De Guzman back to anchor the middle of the park against the Sounders in a modified 4-4-2 with Gordon and Maicon Santos up front flanked by Jaoa Plata and Nick Soolsma. The Reds are likely to stick to the more direct game they have adopted of late using Gordon as the target man with Santos and Plata as outlets.
Seattle:
The Sounders did not look great against Vancouver last week. The ball movement was slow at times and Vancouver really got the better of things early on. The ability to respond was great from Seattle, but starting slow can be devastating. That being said, tactics aren't much of a problem right now and the Sounders should stick to what has been working of late.
Intangibles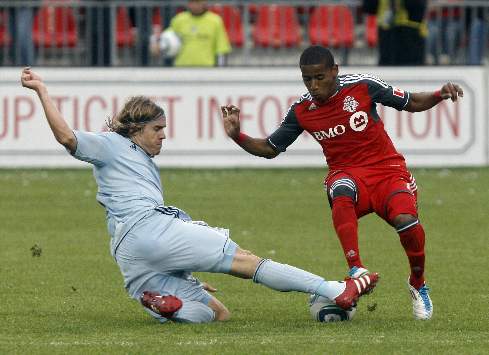 Toronto:
Toronto defeated Seattle 2 - 0 in the 2010 fixture at BMO Field for its only victory ever against the Sounders in five attempts. If the team can find the energy to compete for 90 minutes after two hard fought road games earlier in the week, Toronto may make it two in a row at home versus Seattle. Likely though, the strenuous recent schedule will catch up to the Reds in the second half. A good showing in front of the understandably weary home supporters can boost the club's prospects for the latter portion of the MLS season.
Seattle:
TFC took a bit of a beating the last time these teams met and will want to turn that around, but Seattle should have plenty of confidence on the road after invading Salt Lake and taking down RSL a few matches back.
Prediction
Jim Douros:
TFC will continue its run of competitive form but will not have enough to collect the full three points versus a solid Sounders team. Maicon Santos will put the home team ahead through a strong start but Seattle will carry the play from there on in, finding the equalizer through Mike Fucito.
Allen Ramsey:
I think a draw is a very real possibility here even though I feel he Sounders are a much better team. 2-2.
Keep updated with Major League Soccer by visiting Goal.com's MLS page and joining Goal.com's

page.