Steven Lenhart and Graham Zusi come off multiple-goal performances last weekend.
On Form
San Jose Earthquakes:
To address the readily apparent: Steven Lenhart exploded for a hat-trick against D.C. United, putting an inexperienced and overmatched defense to the sword. Khari Stephenson looked better in his withdrawn forward position, linking up nicely with Lenhart before having to go off early in the second half after picking up a small knock. The man who replaced him, Simon Dawkins, scored his second goal in as many games, while Sam Cronin and Brad Ring once again helped boss the midfield.
Sporting Kansas City:
Graham Zusi started five matches in his rookie season, and then four in 2010, his second season. This year however, Zusi has already set a career high with six starts and has also surpassed his career high in goals with two- both of which came last week against FC Dallas. The first was a great cut into the box and strike far post, the second will be a candidate for MLS Goal of the Year: Zusi caught Dallas goalkeeper Kevin Hartman napping and fired a free-kick home from nearly midfield.
Off Target
Earthquakes:
The defense was a little sloppier than usual, and while not necessarily poor, would do well to tighten up against Kansas City. No one picked up Andy Najar's run as he ghosted in on the far post and finished Josh Wolff's fine through ball, with Bobby Convey ending up nowhere near his man. Bobby Burling got turned badly on D.C.'s second goal, but credit to Blake Brettschneider for a solid play. Despite a few more slips here and there, though, the defense was able to hold strong for the second half.
Sporting KC:
The term "Designated Player" carries with it high expectations, and when that DP is a forward, goals are supposed to come with some frequency. Unfortunately for Kansas City DP Omar Bravo, his goal tally is stuck on two, the same number it was at after an opening-night victory against Chivas USA. Injuries have forced him off the pitch a fair amount this year, but if healthy, Bravo needs to start finding the net to justify his high price-tag.
Tactics
Earthquakes:
Earthquakes head coach Frank Yallop is a big believer in leaving winning formations untouched and will buoyed by the fact that this lineup has managed six goals in the last two games, so expect very few, lineup changes, if any, against Kansas City. There is a fitness question over Khari Stephenson, who picked up what was described as a contusion on his thigh after taking a knee there against D.C. Yallop has assured Stephenson starts if he is ready to go, otherwise he will turn to Dawkins, who is nearing full match fitness. Against a team like Kansas City, the Earthquakes could look to play a little tighter so as not to get overrun in midfield, though with Stephenson dropping back to help Cronin and Ring, Sporting will be in for a battle.

Sporting KC:
Sporting's usual 4-3-3 formation morphed into more of an 4-5-1 against FC Dallas, with rookie CJ Sapong as the lone striker, and the results were undeniably positive: a 4-1 road victory against one of the better sides in MLS. Graham Zusi was given a bit more freedom in the midfield, so look for that trend to continue after his breakout week. Stephane Auvray will be back and available for selection after Guadeloupe was eliminated from the Gold Cup this week. Craig Rocastle picked up a torn PCL on Gold Cup duty with Grenada, and will be out for two months.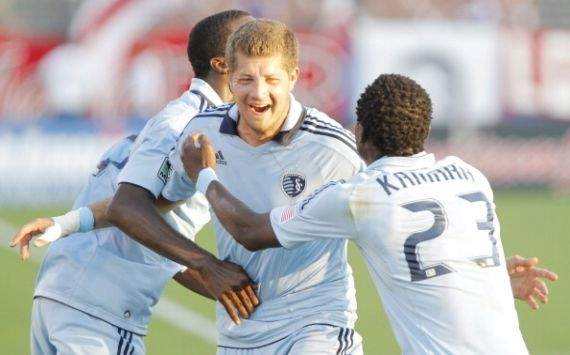 Luke Sassano celebrates his goal against FC Dallas
Intangibles
Earthquakes:
How do you keep it going? One of the more difficult aspects of keeping a run such as San Jose's six game unbeaten streak alive is keeping the players grounded and freshly motivated. Against a team as hungry and demonstrably talented (as last weekend's dismantling of Dallas showed) as Sporting Kansas City, the Earthquakes will have to keep focused and not let success get to their heads.
Sporting KC:
For the first time this year, Sporting has to find out how it deals with success. A season-best four game unbeaten run is on the line against also-hot San Jose. The team needs to start picking up points now, as its still in last in the East, and the home fixtures are about to pile up.
Prediction
Nick Rosano:
It will be an entertaining affair on Friday evening, and the teams will end up level at 2-2.
Seth Vertelney:
A Dallas hangover results in a 2-1 road victory for the Earthquakes.
For more on Major League Soccer, visit Goal.com's MLS page and join Goal.com USA's Facebook fan page!