Drew Moor's stoppage time goal gave the Rapids a much-needed 1-0 victory.
As was fitting around MLS, the matchup between the Portland Timbers and the Colorado Rapid's was filled with late drama. Colorado defender Drew Moor scored in stoppage time to give the Rapids a 1-0 away victory over Portland.
First Half
In the eighth minute Portland forward Darlington Nagbe got the attack started for his side, with a shot on net from about 25 yards out, but his shot did not do much to threaten the Colorado goal.
Colorado responded with lively play and in the 11th minute midfielder Jeff Larentowicz took a curling shot from outside Timbers' box, but Portland goalkeeper Troy Perkins pushed it away.
Jamie Smith had a effort on the Portland net that was headed towards the near post, Perkins once again pushed it out of play.
Portland continued the active play as midfielder Khalif Alhassan found the ball in space and tried to play it over Colorado goalkeeper Matt Pickens, but the ball went over the bar.
The first half of play continued to go back in forth as Colorado forward Caleb Folan had an effort from about 15 yards away from the Portland goal, but Perkins made a great save.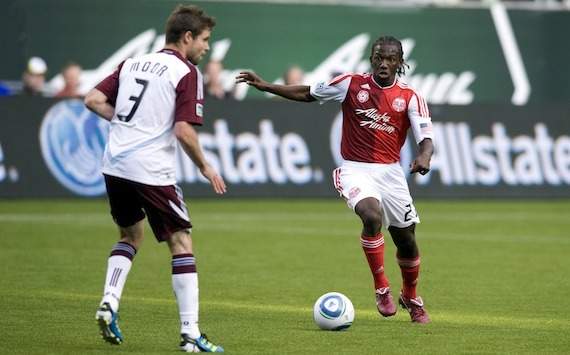 Second Half
The pace of play in the second half was much slower. In the 57th minute the first real attack on goal came from link-up play between Kenny Cooper and Jorge Perlaza, Cooper's shot from 20 yards out was met by yet another Perkins save.
The game turned extremely chippy in the second half, the intensity on the field overlapped to the bench as Portland coach John Spencer was given a red card for dissent in stoppage time.
The frantic game became even more wild in the first minute of stoppage time when Moor picked up a lose rebound in the Timbers box and finished it past Perkins. The goal was earned from the play of forward Caleb Folan, who created the opportunity for Moor.
The game shortly ended and Colorado's last gasp effort was enough to earn three points on the road.
You can follow Justin Churchill on twitter here.
Follow Goal.com on

to get the latest soccer news directly. Check out Goal.com's

page; be part of the best soccer fan community in the world!