Eric Hassli's stunning brace earned Vancouver a draw on a wild night in Seattle.
For the first 80 minutes of the match between Seattle and Vancouver on Saturday night there was nothing to write home about. But the final ten minutes provided something special. Three goals, including a stunner from Eric Hassli, left the game level at 2-2 at the final whistle in one of the most entertaining matches of the Major League Soccer season to date.
First Half
The match opened with both sides creating good chances on goal. Camilo, Osvaldo Alonso and Fredy Montero all had chances to open the scoring but good goalkeeping and poor timing kept the game without a goal until the 29th minute when Vancouver finally got on the board.
Camilo broke down the left, cutting inside cleverly and drawing a foul from Osvaldo Alonso to earn a penalty for the Whitecaps. Hassli stepped up and coolly slotted the ball into Kasey Keller's net, giving the visitors a lead that they would hold for much of the night.
It was only Vancouver's fourth lead of the season, and one the visitors tried desperately to defend.
Seattle, to its credit, did try to answer before the break, but Joe Cannon was on hand to keep Mike Fucito out just before the break. The home fans would have to wait a while for a measure of satisfaction.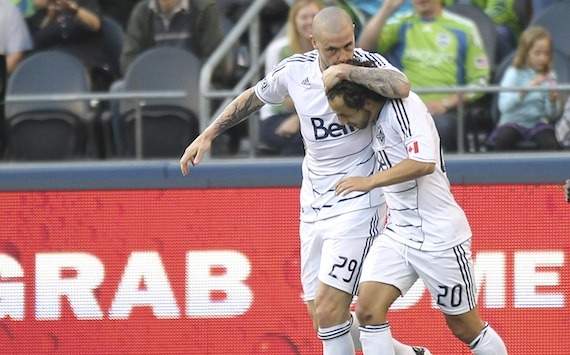 Second Half
Despite some good play from both sides early in the half, the fun didn't really begin until the 81st minute.
After pressing play for much of the second frame, Seattle finally found an equalizer through Mauro Rosales who got on the end of a deflected cross and leveled the score.
The Vancouver defense, which had held firm for 50 minutes, took only three minutes to give up a second goal. A momentary lapse from Shea Salinas left Alonso with the chance to make amends for his earlier mistake. The midfielder stroked a lovely shot into the net to give Seattle a lead.
But that lead would not last thanks to Hassli.
The French forward stuck moments later with one of the best goals of the MLS season. The looping shot was reminiscent of the famed Clint Dempsey goal for Fulham against Juventus, and Keller had no chance.
Three goals in four minutes, and the match was level.
With little time left on the clock there would be no more goals, but the 2-2 draw was certainly one of the best games of the season to this point, and Hassli's equalizer will be in the running for MLS goal of the year.
Keep updated with Major League Soccer by visiting Goal.com's MLS page and joining Goal.com's

page.