New York is without five key players due to Gold Cup call-ups, and is coming off a winless month of May.
On Form
Columbus Crew:
Designated Player Andres Mendoza netted twice last weekend in a thrilling three all draw at Crew Stadium after scoring just once in his first ten matches this season. In addition to getting a brace, the Peruvian was more willing to get stuck in and chase the ball than normal. For a offense that had been struggling, seeing the club's highest paid and most enigmatic striker put his chances away must have been a welcome sight. The striker also showed a bit of fire and passion by storming off the pitch when he was subbed out, but may have stretched his new found goodwill by showering and leaving the ground without staying to speak to the press.
New York Red Bulls:
Supporters of the New York Red Bulls viewed the signing of Luke Rodgers - a forward arriving from England with a criminal record and a dour scoring record - with much skepticism. Effectively the replacement for the gallant Juan Pablo Ángel, Rodgers couldn't have had larger shoes to fill. The bald and bantam striker, however, has rebuked any doubts during his first season in New York, having already tallied five goals including an equalizer last weekend against Vancouver.
Off Target
Crew:
Scoring three goals for the first time all season was great news for Crew supporters. The bad news was that the once impenetrable defense is leaking goals. The Black and Gold have conceded seven goals in their past three matches after giving up seven in their first eight matches. Even skipper and star center half Chad Marshall is getting beat for goals. The defense will be bolstered by the impending return of first choice left back Shaun Francis. That being said, the Crew will have to figure out the problems that have plagued them recently and fix them quickly, because the schedule will only get harder for the Crew.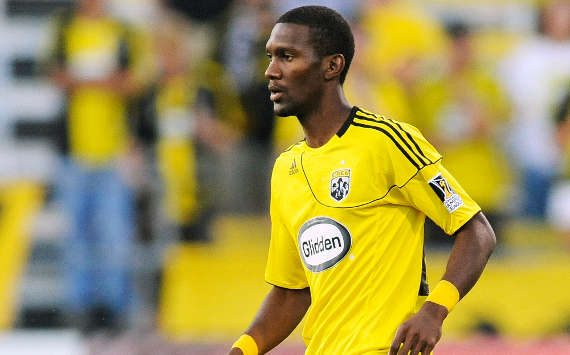 Francis | Almost ready for his return to the Crew lineup
NYRB:
May came and went without New York winning a single match. The Red Bulls' previously rigid back-line has been unscrewed by injuries and international call-ups, which resulted in the concession of a staggering nine goals during the previous month. New York's struggles could continue due to the arrival of the Gold Cup and the departure of five key performers. Hans Backe needs to re-instill the stability that allowed his club to flourish during April.
Tactics
Crew:
Robert Warzycha made a couple lineup changes to try to help spark his offense, and while his changes worked for the offense, his decision to start four wide midfielders in one lineup may have cost his team defensively. The midfield squad of Emmanuel Ekpo, Eddie Gaven, Robbie Rogers and Josh Gardner was plenty aggressive, but lacked a defensive midfielder to help the defense out. Also curious was his sub choices and roster selection. Because he has four wide players on the field, Warzycha conversely had no offensive midfielders left on his bench. The Crew gaffer also brought off Mendoza, who was on a hat trick, just after Chivas went down to ten men. The substitution took the wind out of the Crew's sails, as they could not create that one good chance to win the game.
NYRB:
If Thierry Henry can recover from his injured knee, a striking tandem of Rodgers and the Frenchman is the only line of New York that can be easily predicted. Jan Gunnar Solli has held down the right back position for a majority of this season, but the Norwegian could see time in midfield as he did against the Whitecaps.
Intangibles
Crew:
The New York Red Bulls have not beat the Crew since 2009 in league play. With six starters called up for Gold Cup action as opposed to just one for the Crew, odds are the unbeaten streak continues.
NYRB:
The first time this year that New York was ravaged by national team commitments was earlier in the season against the Columbus Crew. During that match in Ohio, the Red Bulls were resolute defensively, but toothless in attack. The performance of New York on Saturday will be a solid indication of how Backe's side has progressed and how well it can deal with adversity.
Prediction
Justin Henley:
These teams met earlier in the year with similar probable lineups, and played to a dull 0-0 draw. The Crew is winless on the road, but New York had just two points in the month of May. All signs point to a draw, but I'm going for broke and predicting a 1-0 win for the Black and Gold.
Avery Raimondo:
The winless streak is bound to break eventually. At home against a mid-table club is the perfect opportunity to finally obtain a victory. An outbreak similar to the one against the San Jose Earthquakes, with goals coming from Henry and Rodgers, is feasible.
For more on Major League Soccer, visit Goal.com's MLS page and join Goal.com USA's Facebook fan page!