Two teams in search of improvement found little consolation in avoiding a loss.
Both Toronto FC and Sporting Kansas City are hoping their 2011 Major League Soccer seasons take a turn for the better, but the paltry point the two teams earned for their scoreless draw doesn't bode well for a revival of either squad.
First Half
Psychologically, both teams came into the match a bit fragile. TFC had been shellacked in its last outing by the Philadelphia Union, a team newer to the league then the Toronto club. That's a bit like getting beaten by a younger brother. The Union scored six goals on the Canadian club.
Sporting Kansas City, for its part, was on the last leg of a brutal ten game road trip necessitated by the final construction phase of the team's new stadium.
Perhaps, then, it was no surprise that the soccer on the field was tentative and cautious, as neither club could muster up much of an attack.
It also didn't help the situation that the two sides are missing a few of their top players for international duty.
Toronto's Julian de Guzman is playing for Canada in the Gold Cup, while Dicoy Williams is also involved in the tournament for Jamaica. Kansas City's Kei Kamara was called up by Sierra Leone for a friendly match, but the club is also missing four players for the Gold Cup: Roger Espinoza for Honduras, Stéphane Auvray for Guadeloupe and Shavar Thomas for Jamaica.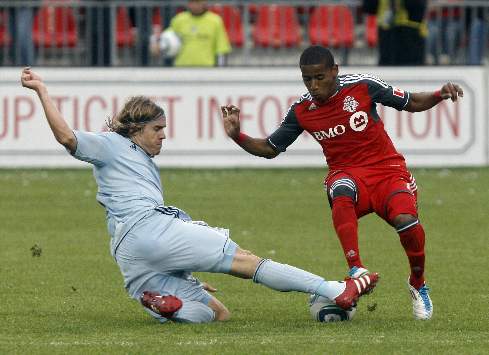 Second Half

TFC and Sporting Kansas City may take some small consolation in the moments of bright play from talented young players.
In the 64th minute, Kansas City forward Teal Bunbury sizzled a shot on goal that forced Toronto's goalkeeper Stefan Frei into a good save.
Toronto finally showed some attacking verve in the 67th minute, when Maicon Santos also prompted Kansas City goalkeeper Eric Kronberg to save a shot.
For the most part, however, it was a tepid performance that could only be worse for either side if the loss both seemed so fearful of had actually happened to one of them.
Follow Goal.com on

to get the latest soccer news directly. Check out Goal.com's

page; be part of the best soccer fan community in the world!