The battle of Texas ended all square as Houston came from a man down and a goal down to earn a 2-2 draw.
Dallas and Houston played out an entertaining draw on Saturday night with the Dynamo scoring late to tie the score 2-2 despite being down a man after the 73rd minute sending off of Kofi Sarkodie.
First Half
Houston had the better of possession early in the match but the run of play didn't matter as Dallas took the first lead on the night in the 27th minute. A Fabian Castillo shot rebounded back off the crossbar only to be headed home by Andrew Jacobson, giving the visitors a 1-0 lead.
Brad Davis would have a hand in getting the home side back in the match just before the break. In the 42nd the dangerous midfielder picked out Cam Weaver, who had held his run to create a bit of space and placed a skipping shot into the net to level the score and end 531 minutes of goalless soccer for the Houston outfit.
Second Half
Houston did all it could to choke away the match in short span in the second half.
Starting in the 70th minute, Houston conceded a goal and went down man in a matter of three minutes. Ugo Ihemelu put away a corner for Dallas after finding space at the top of the six to give the visitors their second lead of the night, and as if that wasn't enough, Sarkodie brought down Brek Shea moments later to leave his team shorthanded.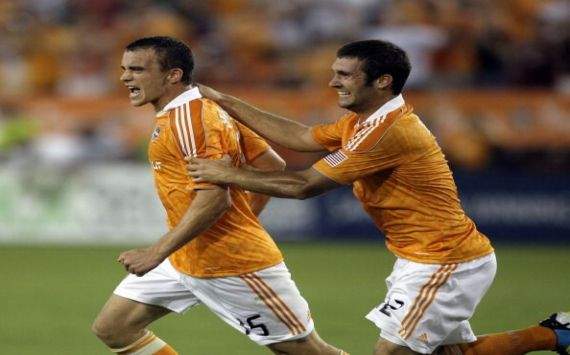 But the home fans would not leave completely displeased and as has been the case for Houston so often, it was Davis who supplied the moment of joy.
With 87 minutes gone, Davis slotted a lovely pass through to Colin Clark who blasted a right-footed shot into the net, preserving a point for the Dynamo and likely leaving Dallas feeling as if it had let a result slip away.
Keep updated with Major League Soccer by visiting Goal.com's MLS page and joining Goal.com's

page.