In Form

Houston Dynamo:
Midfielder Brad Davis is currently the co-leader in assists in Major League Soccer, tied with the Galaxy's David Beckham with six. Davis also netted his first goal of the season last Saturday when he converted a penalty kick. Goalkeeper Tally Hall has 34 saves this season and is fourth in the league. Combine Hall's good form and a tough back line, and it makes for tough scoring conditions.
Los Angeles Galaxy:
The Galaxy forwards have been proficient of late in taking advantage of the chances created by Beckham, Donovan and Co. Chad Barrett scored the winner against Chivas USA and put himself in good positions throughout the night. Juan Pablo Angel has played better recently after a slow start to the season, and Miguel Lopez looked lively in a 20 minute cameo Saturday. With Angel playing 90 minutes Saturday and Bruce Arena's policy of rotating veterans during busy stretches of the schedule, the play of Lopez is important. Expect to see him paired with Barrett against Houston.
Off Target
Dynamo:
It had been 379 minutes since a Dynamo striker had netted a goal when Koke scored in the 82nd minute against the Red Bulls. Not only did he give them a late lead, he also produced some offense from a position that has been struggling the past several weeks. The Dynamo also gave up a goal just 40 seconds into the first half last Saturday. Look for their defensive midfield and center backs to do a better job stepping up and preventing long-range shots.
Galaxy:
The Galaxy are on a strong run of form, but their failure to put teams away has led them to sweat out some victories and resulted in dropped points in other games. Chivas midfielder Ben Zemanski's late shot off the post Saturday would have been irrelevant if Chad Barrett converted his breakaway at the beginning of the second half.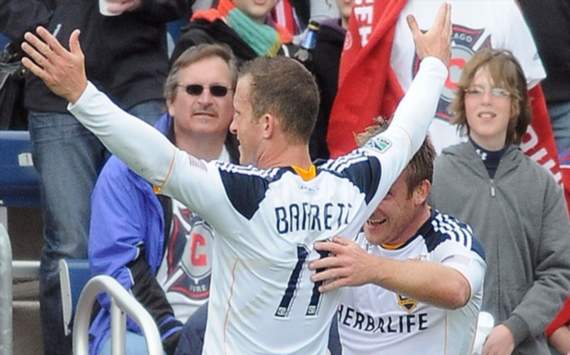 Tactics
Dynamo:
Given the inability of Houston's forwards to produce offense of late, they will once again rely on their midfield. Especially look for the left-footed Davis and Geoff Cameron to link up frequently and try to catch the LA backline off-guard. LA relies on it's center backs to play a high yet disciplined line and if Houston can breach that, they may be able to create opportunities.
Galaxy:
With David Beckham absent, Bruce Arena will probably pair Juninho with Chris Birchall or Michael Stevens in midfield. If it's Birchall, expect to see Juninho take on more of an attacking role than usual. Without Beckham's trademark passing, the Galaxy become more predictable.
Intangibles
Dynamo:
Because Beckham will not be present for Wednesday's match you can assume that LA will not be as dangerous on set-pieces. Given that, Houston is certainly capable of scoring from set pieces. Both goals against New York last week came off of set pieces. Additionally, Houston has yet to win on the road this season with two draws and a loss.
Galaxy:
Galaxy players are accustomed by now to the media attention surrounding Beckham's comings and goings, so they shouldn't be affected by his decision to leave the team to play in Gary Neville's testimonial match Tuesday in England. However the hard-fought game Saturday against their crosstown rivals could make for some tired legs against Houston.
Prediction
Ryan Scally:
I look for Houston to play a direct and attacking style relying greatly on counter attacks. However, I feel that LA has too many offensive weapons and they should be able to contain the Dynamo. This one should end up 3-1 in favor of LA.
Knowles Adkisson:
The Galaxy are probably the superior team in this contest even without Beckham, but the forwards will find it more difficult to score without his trademark service. I see a tough game against a solid Houston side and a 1-1 draw.
For more on Major League Soccer, visit Goal.com's MLS page and join Goal.com USA's Facebook fan page!