The Red Bulls will travel to Texas to take on the resurgent Dynamo at Robertson Stadium.
In Form
Houston Dynamo:
Defender Andre Hainault has been in top form as of late. He is coming off of a series of impressive defensive performances including last week's draw with Real Salt Lake. Hainault was able to limit RSL's scoring opportunities in the box and hold them scoreless. Midfielder Brad Davis has a league-leading 6 assists so far this season. Being a left-footed midfielder makes defending him difficult and provides him with plenty of opportunities to place dangerous balls into scoring areas.
New York Red Bulls:
The two goals tallied in the defeat to Chivas USA on Sunday placed the New York Red Bulls atop MLS in goals per match. Leading this scoring barrage is Thierry Henry, validating his immense salary by finishing five chances in the last five games. After a frustrating 2010 and then a middling string of performances to open this season, the Frenchman has finally revealed the player that starred in Europe for the last decade. New York has one of the strongest starting elevens in MLS, but is only at its fullest when Henry excels.
Off-Target
Houston:
The forwards have not scored a goal in 298 consecutive minutes. Cam Weaver scored in the 62nd minute of their April 29th game with D.C. United. Since that time Houston's forwards have been unable to link up with the midfield and generate goals.
New York:
The loss on Sunday still befuddles. The Red Bull defense had looked nearly impenetrable in the lead-up to the match; yet, Justin Braun completely took advantage of its lapses, achieving his first professional hat trick. A lack of intensity and concentration allowed the American striker to net his trio by taking advantage of a counterattack and two set pieces. Three points, which New York expected to accumulate, slipped away due to the back-line's dismal evening.
Tactics

Houston:
The Dynamo like to play with a direct attacking style. Look for this to continue against a New York side that plays aggressive defensively. Houston will rely on its midfield to maintain possession and locate its big attacking pieces up front. Davis will be a critical part to this attack as he has recently provided a fair amount of the offensive creativity up the left side when paired with Geoff Cameron. Houston will attempt to use counter attacks catch the Red Bull's back line while it is moving forward.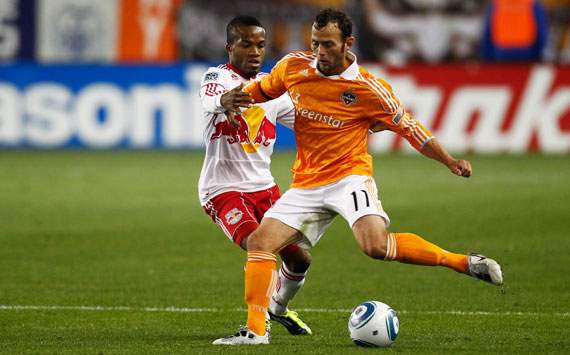 Brad Davis has stepped up for the Dynamo
New York:
After Sunday's disappointment, Hans Backe would be justified in altering his lineup. New York looked sluggish and some adjustments could invigorate the squad during the trek to Texas. If the Swede decides changes are in order, Juan Agudelo would be an obvious insertion. Luke Rodgers has played well, but the prodigious forward deserves a start. The defensive woes were troublesome, but were likely the result of a hectic week rather, which included a friendly in Montreal, rather than any fundamental problems.
Intangibles
Houston:
The last time these two teams played the result was a 1-1 draw. Houston has to look at that game and gain confidence knowing that they were able to hold the Red Bull's to a draw on the road. Given good form recently at home and the fact that New York has a quick turn-around with another league match next Wednesday, these factors could all benefit the Dynamo.
New York:
The only other time the Red Bulls have lost in 2010, the club rebounded with a decisive victory over the San Jose Earthquakes. New York knows that a win against Houston would diminish the significance of the weekend's mishap. Expect a side with renewed focus on Saturday.
Outcome
Houston:
The defense has been playing with quality lately and that'll be huge. New York certainly has the fire power to score goals. On paper this looks like a very enticing matchup. Given the result of the first match, Houston will probably try to push forward more than they did in the first meeting. However, I look for 2-2 draw in this weekend's match.
New York:
Houston is arguably New York's most formidable opponent in the Eastern Conference. A low-scoring draw – either nil-nil or one-one – would not be surprising in the least. Regardless of whether New York scores or not, its defense should manage an infinitely better performance.

Follow Goal.com on

to get the latest soccer news directly. Check out Goal.com's

page; be part of the best soccer fan community in the world!