Sporting Kansas City travels to the Home Depot Center having lost three straight
On Form:
Sporting KC:
With a shaky defense in front of him, Danish goalkeeper Jimmy Nielsen has been immense for Kansas City this season, producing a number of highlight-reel saves and keeping his team in games they likely should not have been in. Another outstanding performance in the team's last match - a 1-0 loss at New York April 30 - kept the scoreline respectable and gave his team hope throughout the match.
Los Angeles Galaxy:
Landon Donovan has shaken off a slow start to strike for five goals in his last four games. While he has admitted to losing a step or two from his younger days, Donovan's intelligent decision-making and well-timed runs have more than compensated for the loss. He has resumed his place as one of the most dangerous players in MLS.
Off Target:
Sporting KC:
When a team is conceding an average of over two goals per game, despite the aforementioned stellar play of its goalkeeper, it's obvious the defense is off target. The team is still looking for its first-choice central defensive pairing, but the outside backs' form has been worrying as well. Normal left back Roger Espinoza was benched against New York in favor of Korede Aiyegbusi, and Michael Harrington has been leaky at the right back spot.
Galaxy:
Juan Pablo Angel has been slowed by injuries to start off the season, and only has one Galaxy goal to his name this year. He has rebounded to look more lively in the last two games, but has lacked the final touch to get on the score sheet. With a plethora of great service from Beckham, Donovan and co., Angel will not want for chances to break his scoring drought.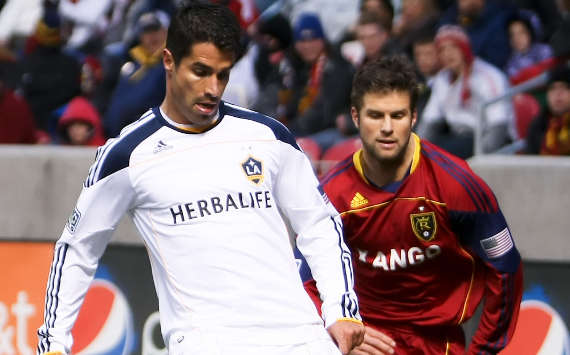 Angel | Has not scored since March 26 against Real Salt Lake
Tactics:
Sporting KC:
Head coach Peter Vermes made several changes in the team's most recent game at New York. In addition to Aiyegbusi's start at left back, Stephane Auvray and Graham Zusi were inserted into central midfield in favor of Milos Stojcev and Birahim Diop. Designated Player Omar Bravo is close to returning from a sports hernia injury, but is still a week away, meaning C.J. Sapong, Teal Bunbury and Kei Kemara will likely be the forward trio again.
Galaxy:
Along with New York, the Galaxy are the league's standard for creating chances off of long stretches of possession. David Beckham and Juninho have formed a strong understanding after two years playing together, frequently interchanging to switch the point of attack, while Donovan causes havoc cutting in from the wing. Todd Dunivant and Sean Franklin offer speed and good service from the outside back positions, and despite his early struggles, Juan Pablo Angel has proven to be a dependable finisher in his time in MLS.
Intangibles:
Sporting KC:
Sporting Kansas City will certainly be the fresher side in this one, as the Galaxy played last weekend and this Wednesday against Philadelphia, while their opponents will be playing their first match since April 30. Sporting is now on the home stretch of their ten game road trip to start the season, and the June 9th curtain-raiser of their new stadium is in sight. Can the team get its first points since a 3-3 draw at Vancouver April 2nd?
Galaxy:
The Galaxy have played well the last three games, but defensive lapses and wasted chances in front of goal have resulted in two ties and a loss from the stretch. The Galaxy will be angry and frustrated, feeling they have left points on the board. The return of a rested David Beckham, who did not travel to Philadelphia with the team, will only add to the Galaxy's motivation in their return to The Home Depot Center.

Prediction:
Seth Vertelney:
Sporting take advantage of a tired Galaxy side and earn a 1-1 draw on the road.
Knowles Adkisson:
Los Angeles will take out their frustrations on a Kansas City side that have looked enlightened in attack but porous in the back. Kansas City will get on the board, but the Galaxy will create plenty of chances of their own in a 4-2 shootout.
For more on Major League Soccer, visit Goal.com's MLS page and join Goal.com USA's Facebook fan page!