It's Goal.com's MLS Game of the Week!
On Form
Los Angeles Galaxy
: Galaxy captain Landon Donovan has scored in consecutive matches, so he seems to have bounced back from his brief injury absence, even if the Galaxy didn't win their last game.

New York Red Bulls:
The New York Red Bulls, after destroying the San Jose Earthquakes and D.C. United, cooled slightly over the weekend, defeating Sporting Kansas City by a mere goal. Hans Backe's backline, producing its third consecutive clean sheet, was the bright spot once again as Teal Bunbury and the rest of KC's potent attack were stymied. The RBNY attack, although not as fluid as in past matches, did produce some eye-catching moments including the quick passing that led to Saturday's winner.

Off Target
Los Angeles:
Can we get an "amen" on an Angel scoring? Juan Pablo simpy has not been as prolific with Los Angeles as he was with New York. He will undoubtedly be especially motivated against his old team, but it's getting to be crunch time for the striker to prove he can really be effective. David Beckham is another Los Angeles player with something to prove, given that his team lost after he'd jetted off, then back, from the royal wedding. Irate Galaxy fans want to see more commitment to their squad.

New York:
The first time this season a New York DP stepped up to take a penalty Kasey Keller stoned Thierry Henry. This weekend? Jimmy Nielsen saved Rafa Márquez's timid attempt. While the misses weren't too troublesome, since New York still won both matches, the official PK taker needs to be sorted out. Otherwise, the Red Bulls have few troubles at the moment. The half-time substitutions of Teemu Tainio and Luke Rodgers could be worrying, but the changes seemed precautious and both players should recover by the LA match.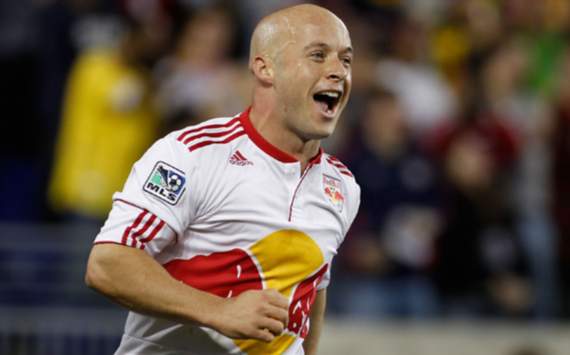 Tactics
Los Angeles:
The Galaxy could welcome a pair of returning players to the fold, since Gregg Berhalter and Adam Cristman are on the mend. Neither is likely to go the full 90, but Bruce Arena could grant either, or the pair, a few minutes of game time to help their progress along.

New York:
If Backe rolls out the starting eleven unchanged from over the weekend, the Swede will set a franchise record, becoming the first coach to use the same lineup in four consecutive matches. Some have clamored for the reintroduction of Juan Agudelo to a starting role, but Rodgers scored once again this weekend. If the Englishman is still bothered by his knee, however, then Agudelo pairing Henry is the safest option for Backe.
Intangibles:
Los Angeles:
Landon Donovan has called the clashes between the two teams "duels", and there is something of a deep rivalry in the way the squads go after each other. Neither wants to be the loser in the next day's headlines. When Thierry Henry, Rafa Marquez, Juan Agudelo and co go up against Donovan, Angel and Beckham, there will definitely be press on the result.

New York:
Headlines will – and rightly so – center on Juan Pablo Ángel. For the first time since the Gals acquired the Cherubic Assassin, New York will have to face its club's greatest-ever player. The way Tim Ream and Márquez deal with skilled, but declining, forward is something to note.

Outcome
:

Andrea Canales:
The scoring drought of the LA strikers will continue, but Juninho will crack in a goal to help the Galaxy to a 1-1 draw.

Avery Raimondo:
The last time the Red Bulls traveled to Los Angeles, they returned home with three points. I expect the same thing to occur with goals by Joel Lindpere and Henry trumping Ángel's consolation strike.
For more on Major League Soccer, visit Goal.com's MLS page and join Goal.com USA's Facebook fan page!