Toronto FC heads home, looking for their first win since the second week of the season.
On Form:


Houston Dynamo:
Rookie forward Will Bruin is looking like he was a steal for the Dynamo with the 11th pick in this year's draft. He's already scored four times and has one MLS Player of the Week award under his belt, and has shown the ability to finish both in the air and with his feet.
Toronto FC:
Toronto's display in Seattle this past weekend gives little to be positive about, although Toronto did pick up two wins mid week on either side of this past weekend in Canada Cup action. Alan Gordon continues to be a bright spot for Toronto so far this season and along with Stefan Frei the only starters who have been on form continuously this season. Julian De Guzman continues to show decent form since his return from surgery, but may have suffered a set back against FC Edmonton Wednesday night. Joao Plata also continues to impress in his appearances for Toronto, getting a start against Edmonton and dropping a picture-perfect chip to the foot of Alan Gordon for the winning goal.
Off Target:


Dynamo:
Goalkeeper Tally Hall had been excellent in his first season as Houston's starter, but he had his first big nightmare Wednesday night. He completely misjudged a free-kick from Jamie Smith from over 40 yards out, allowing a fairly harmless driven ball to wind up in the back of the net. It allowed Colorado to level the match, and they found the winner late in a 2-1 victory. It will be interesting to see how Hall rebounds.
Toronto
: After the debacle in Seattle the entire team is off form against MLS opponents. Toronto's defense has yet to plug all the leaks, as goalkeeper Frei is giving the appearance that they are better than they actually are. Aron Winter has been constantly tinkering with the back four, but at this point it's possible that roster changes are needed.
Tactics: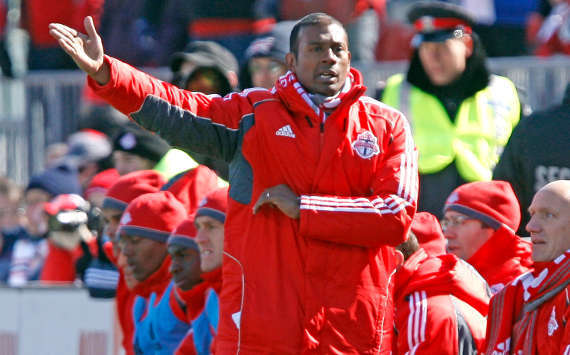 Aron Winter may have to make drastic changes to TFC
Dynamo:
Look for the Dynamo to stick with their Jamaican central midfield pairing of J
e-Vaughn Watson and Lovel Palmer. They both showed well in Wednesday's loss to Colorado, which marked Watson's first-ever Dynamo start. Up top, the in-form duo of Cam Weaver and Will Bruin will look to continue bagging goals.

Toronto FC
: With a large chunk of Toronto's home games this season appearing early in the season, they are not helping themselves by only notching one win so far this season. They need to take advantage of the 12th man the crowd at BMO Field provides and earn all three points against a conference opponent. Alen Stevanovic and Javier Martina have already proven that with the ball at their feet they are more than capable to be creative. Joao Plata should find himself on the field at some point this weekend following his performances in the Canadian Championship. He could be the spark that Toronto needs to kick start its offense.
Intangibles:
Dynamo: Houston was feeling good after a run of three wins and a draw in four matches, but Wednesday, they were brought back to earth at home to slumping Colorado. They now travel to Toronto FC, who've been no less than one of the poorest sides in the league, along with their Canadian brethren in Vancouver. This is a game that Dom Kinnear should view as a great chance to take all three points on the road.
Toronto FC:
Toronto's lineup could be shuffled following the youngsters' strong showings in the Canadian Championship and the regular starters' poor form last weekend in Seattle
Prediction:
Seth Vertelney:
Houston gets the better of almost every individual matchup here, so I'll give them a 2-1 road win.

Kosta Christopher:
Toronto take advantage of Houston's fatigue from a tough midweek game and long travel time for their second win of the season. Toronto 2 - 1 Houston
For more on Major League Soccer, visit Goal.com's MLS page and join Goal.com USA's Facebook fan page!