All the goals came quite late in the game.
In an amazing comeback, the Colorado Rapids defeated the Houston Dynamo 2-1, after going a goal down with only 20 minutes to play.
The strength of Houston Dynamo's defense were almost successful in silencing the Colorado Rapids. However, Colorado's Jamie Smith and Scott Palguta scored goals that gave the Rapids the win.

First Half
It was a very slow, uneventful first half. Houston's Lovel Palmer had a missed shot in the 22'.
Cam Weaver and Brad Davis were shown yellow cards.
The most action on the field was when Rapids' Omar Cummings was taken down, and left the field with a sprained ankle.

Second Half
This half was in complete contrast to the first half. Both teams came out ready to put the ball in the net.
However, the Dynamo defense silenced the Rapids for the majority of the match, as they were having a difficult time playing as a cohesive unit.
There were more shots on goal, mainly by Will Bruin, but it was finally Colin Clark who scored the first goal of the game at the 71', making the score 1-0, Houston.
The new score gave the Colorado Rapids a determination to fight back, and they did.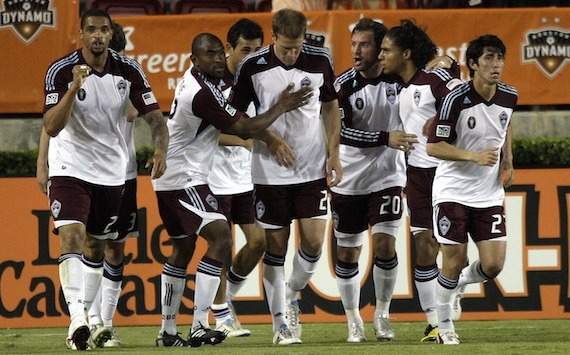 However, they were also aided by Dynamo goalkeeper Tally Hall being out of position.
"I made a colossal error, and the team paid for it," said Hall after the match. "Unfortunately, it happens. It happened today, and the team was punished for it. I think we played well enough to win. One goal is enough to win the game, and I feel like I let the team down today.""
Jamie Smith put the ball in the back of the net, tying up the score 1-1.
Within 10 minutes, the newest starter, Scott Palguta connected with a pass from Caleb Folan, making the final score 2-1 Colorado.
Houston Dynamo seemed to control most of the match, yet it was the defending champions who walked away with the win.
Dynamo coach Dominic Kinnear bemoaned the result.
"We controlled good periods of the game. They defended very well and took advantages of the mistakes we made. I think to be 1-0 up and two minutes later to give up a goal is a little deflating. We all need to do a better job of attacking the ball in the box. They did a good job off just knocking the ball forward using the big guys to try and disturb us."
Follow Goal.com on

to get the latest soccer news directly. Check out Goal.com's

page; be part of the best soccer fan community in the world!