The two teams clash in midweek action.
In Form
Houston Dynamo:
Will Bruin is making people forget that Brian Ching has been injured for most of the year. Bruin has been able to get on the end of crosses from Brad Davis and has done well with them. Bruin had a hat trick against DC United in a 4-1 rout of D.C. As long as the service continues, Bruin should continue to be dangerous.

Colorado Rapids
: In spite of a rough four matches, where he has had a different forward to pair with each match, Omar Cummings still has the speed and style to make plays. Once Andre Akpan shook off his nerves, he and Cummings seemed to have the makings of a powerful duo, even scoring the only goal the Rapids have seen in four games. The defensive wall has included veteran Tyron Marshall, who has strengthened the already strong unit.
Off Target
Houston:
While Bruin and Cam Weaver have combined for seven goals, the midfield has scored just once - a goal by Geoff Cameron in a 1-1 draw against Seattle early in the season. Brad Davis, though, has six assists while Cameron has a pair so the midfield is being productive, but Colorado may just blanket Bruin and Weaver and could take the forwards out of the match. If so, the midfield's production will have to increase.
Colorado:
If any more injuries or suspensions occurred, Rapids fans were a little nervous about who was left on the squad to put into a match. This may be the week that Wynne, Folan, and even Casey make an appearance back on the pitch. Sanna Nyassi has struggled finding his place, but there were moments of experience displayed when playing against Chicago Fire.
Tactics
Houston
: Houston has been in a 4-4-2 for a while and there's no need to change for this match. As long as Davis is on the left side, the midfield will generate scoring chances. Bobby Boswell and Andrew Hainault have enough size and physical presence to deal with Omar Cummings and possibly the return of Conor Casey.
Colorado:
The defending champions are craving a win. Look for them to come out with strikers Cummings and possibly Caleb Folan, even though Andre Akpan proved he can hold his own up top. The squad knows they can dominate possession, but are hoping to improve on taking better advantage of that control.

Intangibles
Houston
: After its 4-1 victory over DC United, Houston has a surge of confidence. Houston has not lost since a season-opening defeat at the hands of Philadelphia. Since then, the team overcame some early difficulties, pulled out draws and now have done well to settle down and pull out some convincing victories.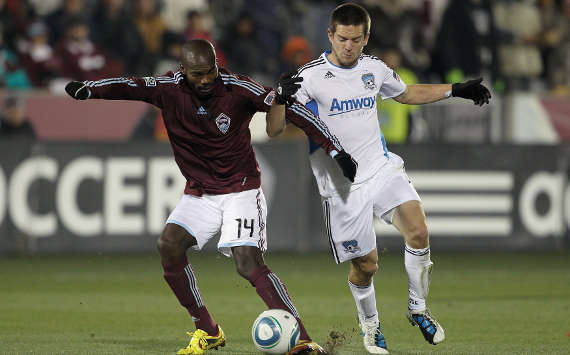 Omar Cummings is doing his best to get the Rapids back on track
Colorado
: They have had a rough few weeks, unlike the Houston Dynamo. Road trips are not always the easiest time to make a come back, but if players like Casey and Folan are able to join the starting XI, it could give the team the confidence needed to bring home a win.
Outcome
Luis Bueno
: Houston is playing with too much confidence to lose. Houston, 2-0.
Stephanie Gardner
: This is going to be a grueling match. Coming off a hard-earned tie, the Rapids desperately want three points. They should earn them by defeating Houston 2-1.
For more on Major League Soccer, visit Goal.com's MLS page and join Goal.com USA's Facebook fan page!