The Western Conference rivals square off.
On Form
FC Dallas:
Eric Avila had better be on form. The 23-year-old popped up with a big goal last week, but can he carry the attack load for the Hoops? It seems likely that Avila will be asked to fill the shoes of David Ferreira while the reigning league MVP sits out with injury, and while those are huge shoes to fill, Avila has enough talent to become a decent replacement.
Los Angeles Galaxy:
Sure, Landon Donovan had goals and an assist in the Galaxy's last match, but if was goalkeeper Donovan Ricketts who was on fire, stopping every shot that came his way from the Timbers. Ricketts was especially peeved at last year's playoff exit to Dallas, and he would like nothing better than to keep a clean sheet in this match.

Off Target
Dallas:
Ferreira leaves a huge gap in F.C. Dallas' attack, so finding his replacement will be the biggest issue right now. Missing one of the top players in the league, can the Hoops create enough goals? There should be plenty of options, but Ferreira was so instrumental in the attack that find a replacement is much bigger than just replacing talent for talent. Somebody has to fill in, and others have to step up around him.
Los Angeles:
Of the three designated players that the Galaxy feature, it's forward Juan Pablo Angel who doesn't seem to be pulling his weight at present. Donovan and David Beckham are contributing assists as well as goals, but at present, Chad Barrett has scored more for the Galaxy than Angel, and Barrett makes a whole lot less. Angel did have a nifty cross to Donovan for an assist in his last match, but when a team hires a player to be a rainmaker, they want rain. Or, more specifically, they want a shower of goals.
Tactics

Dallas:
Avila should slide in comfortably to leave FCD with the same tactical setup as before. Look for more of a push to move down the wings with more consistency, but the basic tactical setup won't change much.

Los Angeles:
How many soccer clubs are affected by the royal wedding? The Galaxy have Beckham jumping on a flight from London to join the club in Dallas, but after all those hours of travel, he may not be in any shape to start. If so, coach Bruce Arena may give more time in the middle to young Paolo Cardozo.
Intangibles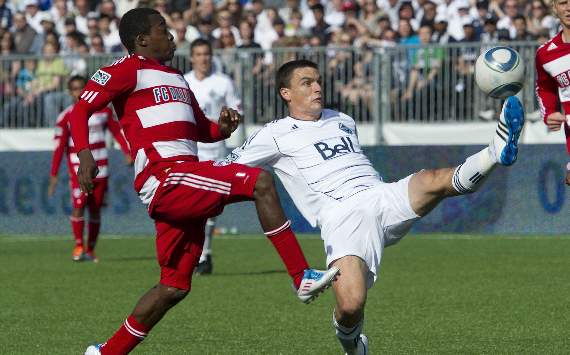 Dallas must deal with the pressure of a big game versus the Galaxy

Dallas
: Any match against Los Angeles brings plenty of added pressure from the normal midseason match. For starters, the Galaxy are a top club in MLS and they bring some of the biggest names in the league with them. Plus, as two of the top teams in the West, these matches are a measuring stick for how good each side is early on.
Los Angeles:
Yes, the Galaxy are mad that Dallas pushed them out of the playoffs, but the playoffs are a bit of a crapshoot. Besides, a regular-season win just isn't the same, so LA may lack for motivation in this one. Then again, perhaps not.

Outcome

Allen Ramsey:
It's hard to pick Dallas right now with the club's inconsistent form. Add in Ferreria being out and the opposition being one of the best in the league and you have to give the nod to the visitors. 4-2 Galaxy.
Andrea Canales:
Beckham probably won't be in any condition to play the full 90, but that still leaves LA better off than Dallas, since their David - Ferreira - isn't available at all. 3-1 Galaxy.