Will Benny Feilhaber make Chivas USA regret not signing him?
On Form
Chivas USA:
It's fair to say the entire team is on form after the triumph of their first-ever league win this season. It's especially notable that Chivas USA defeated an Earthquakes squad that are pretty solid contenders, not bottom-of-the-standings fodder. The defense of Chivas USA had been solid of late, and the offense finally caught up for a cohesive team effort.
New England Revolution:
It's safe to say that New England has found the offense they have been searching for all season. The Revolution used solid midfield play from Benny Feilhaber to expand their game. Feilhaber's passing and possesion in the midfield was the difference maker in New England 3-2 win over Sporting KC. This weekend on the road against Chivas USA it is crucial that head coach Steve Nicol can figure out his team formation from the start of the game. Last weekend New England came onto the field very disjointed and Nicol had to adjust tactics throughout the game. With a full team throughout the season New England will be a serious MLS playoff contender.

Off Target
Chivas USA:
Consistency is key for the club to prove that their win wasn't a fluke. It's especially crucial because the home fans will be looking to see a squad that can attack well. Most squads have a better home record than away, and with their one win coming on the road, it's the reverse for Chivas USA.
New England:
Last weekend Marko Perovic picked up a slight knock in the run of play. Tuesday's injury report says that Perovic is out with a Left Knee Sprain. This is not good for Perovic and New England as he has suffered from injury throughout this season. I expect Midfielder/Defender Chris Tierney to take Perovic's usual spot at left outside midfield. Central midfielder Pat Phelan is listed as doubtful as he missed the game against Sporting KC with a headache. Phelan can't play it is most likely Stephen McCarthy or Ousmane Dabo will take Phelan's usual spot at holding midfielder.
Tactics:
Chivas USA:
If possible, coach Robin Fraser will go with the exact same lineup and strategy that yielded the team its first win. Why mess with a winning formula?
New England:
Nicol should attempt to set up a 4-5-1 against Chivas. The center of the midfield should be setup in a way that uses Feilhaber's strengths. The center of the midfield should be set up with Shalrie Joesph and Stephan McCarthy as holding midfielders. This would leave the creative position of attacking central midfield stop to Feilhaber. Having five midfielders on the field is the best option for New England because that is where they have the most depth. In the forward position the Revolution is not as strong aside from Rajko Lekic who they can play as a target man striker.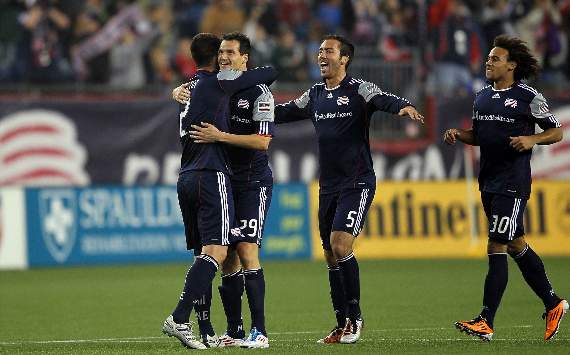 New England has a stronger squad than many expected
Intangibles

Chivas USA:
The problem with stopping a losing skid is that teams are more wary. Frankly, a team that hasn't won isn't perceived as much of a threat. Chivas USA got that monkey off their backs, but now they have a target instead. New England won't come into this match half-asleep, for sure.

New England:
Going into this weekend's match both teams are coming off positive results. On Tuesday New England started their 2011 US Open Cup campaign with a 3-2 victory over DC United. New England started a predominately reserve team but came away with a respectable result that will only give the team confidence with a match away at Chivas looming on Saturday.
Outcome
Andrea Canales
: Chivas USA's defense is the real thing, but their offense is still finding its way. The end result will be a 1-1 draw.

Justin Churchill:
New England's new offensive will be too much for Chivas. Benny Feilhaber will make the Chivas USA front office regret the fact that they did not select him in the MLS allocation process. New England wins 2-0.
For more on Major League Soccer, visit Goal.com's MLS page and join Goal.com USA's Facebook fan page!