Toronto FC and Columbus face off for the Trillium Cup.
On Form
Toronto FC:
After last weekend debacle at BMO Field there are few positives to take away looking ahead to this weekend. For the second game in a row De Guzman has been Toronto's liveliest player on the field, constantly breaking up plays and moving into space. He played a full ninety against DC and has had a week to recover for this weekend. Alan Gordan has unfortunately not played in two games for the Reds as he was in fine form, notching two goals in his first three games. As usual, Aron Winter is keeping the status of Gordon tight lipped and will likely not divulge his ability to play until as late as possible.
Columbus Crew:
William Hesmer will add another to his long list of club records when he takes the field Saturday against Toronto and sets the record for most minutes without conceding. He is currently tied at the top with 373 minutes, and needs just one minute to have the record to himself. The Crew's number one will look to celebrate this feat on the ground where last season he scored a 90th minute equalizer to keep up hopes of a third consecutive Eastern Conference crown. Hesmer appears to have completely recovered from the collarbone injury he suffered in the season finale against Philadelphia. He can also thanks his defenders in front of him, as during this streak he has faced a grand total of 13 shots on goal since the streak began.
Off Target
Toronto FC:
The entire team put on their worst display of the season so far against DC United. The back line was asleep in the opening 20 minutes of the game, which led to them giving up two early goals. Jacob Peterson was dropped back into a full back roll and could not handle the defensive part of the position adequately, its clear that his role should be higher up the field especially now that a natural right back has been signed.

Columbus:
While the Crew defense has pitched shutout after shutout , the offense has been unable to capitalize with goals. The Crew have just four goals in five games, and have struggled to create chances. This was on full display last weekend against Sporting KC, as the teams combined for six shots on goal in a full blown rainstorm. For long stretches in the first half, the goalkeepers looked to be playing catch, with long balls going back and forth like a tennis match. As good as the defense has been, sooner or later someone will score against the Crew, and it will be up to the offense to get results, and as it stands now, that does not look likely.
Tactics
Toronto FC:
Based on the performance last game, its safe to assume that Winter will be making a few changes to his lineup this weekend. Winter has struggled to find a right back that can move forward as well as defend. With new signing Richard Eckersley having a full week of training with the team under his belt he looks like he could get the start. Tony Tchani complements De Guzman well in the midfield with his stature and aggressiveness, although over the last two games his passing has become increasingly errant. Gianluca Zavarise has played very well in his many substitute appearances and could earn himself a start this week. If Gordon is still not healthy Maicon Santos will likely be pushed up into the lone striker position leaving a possibility for Oscar Cordon to earn another start as TFC's attacking midfielder.

Columbus
: Robert Warzycha went for a more offensive lineup last week, replacing Dejan Rusmir with Dilly Duka and switching Eddie Gaven with Emmanuel Ekpo positions on the pitch, and worked out in the end, with Duka getting the assist on the lone goal. On the road, Warzycha has had a tendency to play more negatively and go for the draw, even against supposedly weaker opposition. In the first leg of the Trillium Cup in Toronto and with a defense more then halfway to a league record for most minutes without conceding, it is expected he will continue to play for a draw.

Intangibles

Toronto FC
: This game is integral in Toronto keeping pace with the top teams in the Eastern Conference and nothing but a win at home will suffice. Toronto need to come out of the gates at full speed against a solid Columbus team, but have previously struggled to do so.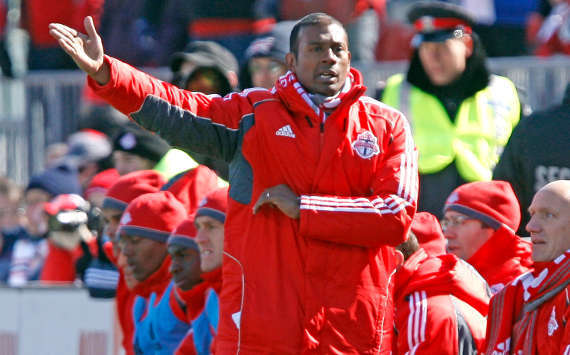 Coach Winter is searching for winning formula for TFC
Columbus
: Columbus is unbeaten against Toronto all time, with a 5-0-6 record. On the last trip to BMO, that looked like ending until goalkeeper William Hesmer scored in stoppage time to level the score at two and preserve the unbeaten run. Knowing that they are facing a team that has never beaten them gives the Crew a massive edge mentally.

Outcome
Kosta Christopher:
Toronto will be unable to get their first win against Trillium Cup rivals Columbus this weekend, but they will earn a point. Toronto FC 1 - 1 Columbus Crew
Justin Henley:
The Crew keep up their undefeated streak in this one, but the offense continues to shoot blanks, creating few chances, and each keeper makes a decent save or two, but is not tested too much in a scoreless draw.
For more on Major League Soccer, visit Goal.com's MLS page and join Goal.com USA's Facebook fan page!