After dealing with much criticism over the past couple years, USA striker Jozy Altidore recorded a goal and an assist to guide the Americans to a win over Canada in Group C play. DETROIT - After years of scrutiny for not making big plays despite a load of potential, Jozy Altidore was able to quiet his critics at least for a day in the United States' Gold Cup opener.
Altidore broke out of a slump that lasted through last year's World Cup with a strike early in the first half and an assist to Clint Dempsey in the second, leading the U.S. team to a 2-0 victory over Canada at Ford Field.
"You just go out there and try to help the team anyway you can," Altidore said. "I think we have a lot of guys who have shown they can score goals for us. I just thought for us to start the tournament [well] was important, to get off to a good start after Spain."
Just four days after landing only one shot on goal against Spain and looking completely dead offensively, the U.S. came out swinging against its neighbor to the north. With solid midfield play from Michael Bradley and Dempsey along with Altidore taking advantage up front, the Canadians were forced to play defense most of the night.
"We picked ourselves up well," Altidore said. "I think we still have clearly a lot of ways to improve. But to start, it wasn't too bad."
Altidore broke out of his scoring drought just 15 minutes into the match. After nifty passing by the U.S. team, Donovan found Altidore, who blasted the ball past goalkeeper Lars Hirschfeld.
It was Altidore's 11th goal in international competition but first meaningful one in nearly two years. Altidore last scored in a friendly against Poland in October 2010, but hadn't scored in a non-friendly match since the World Cup qualifier against El Salvador at Rio Tinto in Salt Lake on Sept. 5 2009.
Altidore made his offensive presence known once again in the second half when he crossed the ball to a dashing Dempsey, who slid it into the net in the 62nd minute. The 21-year-old Altidore would be substituted for Sacha Kljestan 12 minutes later to a loud ovation from the 28,000 in attendance.
"For confidence it's a good game for Jozy," U.S. head coach Bob Bradley said. "The movement that led to the first goal and then obviously the ball that he put across for Clint's goal. Both were great plays. When you go through a stretch with your club team not always playing regularly and not getting goals, I think in terms of confidence this was very important."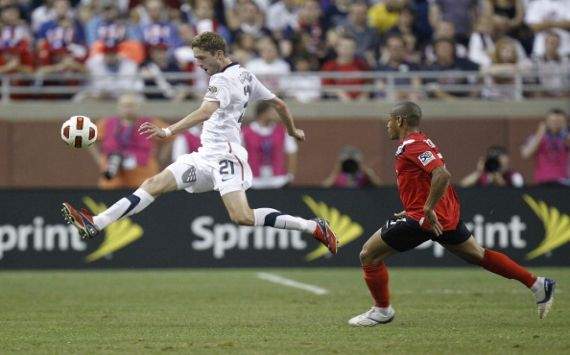 Clarence Goodson helped anchor USA's solid defense
Canada, which was without holding midfielder Julian De Guzman due to a calf injury, provided a few scares for the U.S. in the second half. But U.S. goalkeeper Tim Howard was on his game despite playing in unusual conditions with a roof over his head and a new grass field that was put over turf in the days leading up to the match.
Ali Gerba, a second-half sub, gave Canada's offense a bit of hope in the second half but missed two point-blank opportunities. He sailed one just wide in the 68th minute and watched another shot get deflected by Howard minutes later.
"I honestly felt we played a lot better in the second half," Canada coach Stephen Hart said. "We adjusted really, really well. We didn't create that many chances, but the chances we did create were very good and Howard was absolute magic. I almost clapped on the save."
The match between the two border rivals started to get chippy early in the second half after the Americans countered an attack by the Canucks. Michael Bradley was called for a yellow card in the 50th minute followed by a yellow being handed out to Canada's William Johnson, who stopped a USA break with an aggressive sliding tackle.
"We expected a tough match," Bob Bradley said. "I think this Canadian team is a good one and going in we knew it would be a tough match. There's a lot to build on for us, so we're excited to get going."
The United States is among the favorites to win the Gold Cup along with Mexico, which opened its Group A schedule with a 5-0 win over El Salvador.
Follow Mike Slane on Twitter