A rivalry as old as MLS itself renews acquaintance.
On Form:

Chicago Fire:
Tough to talk about the Fire being on form after two straight defeats from their northwest trip. The Chicago Fire accumulated three yellow cards at Portland, including a four goal defensive breakdown. Diego Chaves put in a solid effort but it was not enough down in rainy Portland. If Marco Pappa is able to continue his exceptional form in midfield, the Fire should rebound on Sunday.

Los Angeles Galaxy:
The complaining mode of David Beckham is in fine form, as he leads the league in both yellow cards and in sniping at league officials. Perhaps he figures he's such a big name he's not going to get a break from the referees anyway, but Beckham has managed to put an even bigger target than usual on his back.
Off Target:
Chicago Fire:
As previously mentioned, defensive aspects of the game for the Chicago Fire are in need of desperate help. The four goals let in at Portland brings them to a total of nine goals conceded in only four matches. That gomes out to 2.25 Goals Against Per Game. Certainly Sean Johnson has to buckle up his play after a couple of shaky moments with an awkward attempt at a catch on Timbers' third goal. Needless to say, the backline of the Chicago Fire is "Off Target."
Los Angeles:
Of course the team misses Landon Donovan, but that's weak sauce excuse. If the Galaxy are going to be contenders in 2011, they need to suck it up and play well, even when their captain isn't there. Yet the whole squad has played out of sorts of late.
Tactics:
Chicago Fire:
For the first time this season, Carlos De Los Cobos introduced a 4-4-2 formation in Portland in 2011. There will always be excuses about why it didn't work out again, but time is running out. Being at home, against the Galaxy, could potentially see major changes to the Fire. Josip Mikulis ic healthy again and could fill the role of either Dasan Robinson or Jalil Anibaba in the back. Anibaba-Mikulic-Gibbs-Segares would fill in the back four line, with Nyarko-Pause-Videira-Pappa making up the midfield and the Uruguayan duo of Chaves-Puerari up front.
Los Angeles:
There's no debate about where to play Beckham this match - he's suspended. Mike Magee will probably deputize in the midfield. Donovan may return to the lineup, however. With Juninho also out for the Galaxy, young Paulo Cardozo could get the call.
Intangibles:
Chicago Fire: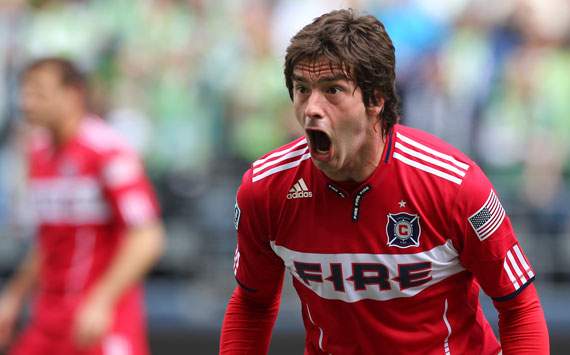 Chaves will lead the Fire attack

With Josip Mikulic returning to action, the 23-year old Bosnian inevitably needs to bring his A-game Sunday. If anyone would improve the Fire's defensive aspects, it's him. The Los Angeles Galaxy will also be without David Beckham and the crafty Juninho for Sunday's clash with a doubtful Landon Donovan as well.
Los Angeles:
The Fire have traditionally had the Galaxy's number, even when LA seemed a stronger squad on paper. Look for a fierce duel to commence.
Outcome:
David Gubala:
With a disappointing nil-nil showing at BMO Field, the Galaxy know that they cannot drop points like this if they want to stay on par with Real Salt Lake. Much of the same goes to the Fire. Their two straight defeats have to be quickly made up for and Sunday is the time for it. 2-1 Chicago.
Andrea Canales:
I'm on a roll predicting draws for the Galaxy, so I'll throw out another; 1-1.
Keep updated with Major League Soccer by visiting Goal.com's MLS page and joining Goal.com's

page.