The Sounders head to Philadelphia in a rematch of the first ever game played at PPL Park. Also included is a video of some Sounders previewing the match.
On Form Philadelphia Union:
Three shutouts in four games? It's safe to say keeper Faryd Mondragón is on form. He wasn't tested too strenuously in last week's 1-0 home win over the New York Red Bulls, but it's undeniable that the Colombian's direction of the back line has had a big hand in the Union's suddenly formidable defense.

Seattle Sounders FC:
Veteran 'keeper Kasey Keller made three highlight reel saves in an eight- minute span to seal Seattle's 2-1 win over the previously unbeaten Chicago Fire. Keller's lightning quick reactions prevented what should have been a draw or win for the visiting Chicago side. Offensively, midfielder Mauro Rosales provided the playmaking spark with his distributions in the first half of play. Steve Zakuani and O'Brian White notched their second goals of the season.
Off Target
Philadelphia:
Defensive midfielder Stefani Miglioranzi had an uncharacteristically woeful performance against New York, as the Red Bull mids ran roughshod all over PPL Park. Forward Sebastien Le Toux continues to display an impressive work rate, but has yet to find last year's MVP-candidate form.
Seattle:
If not for Keller's outstanding play in net, the Sounders' defenders would have looked way worse. The Chicago forwards managed to outmaneuver and outplay Seattle's back four despite only scoring once. Against the stingy Union defense, this match may come down to the side that doesn't give up a goal.
Tactics
Philadelphia:
The Union are 3-1-0, but all three wins were 1-0. Even their loss was 0-1. You don't need to be an expert analyst to see what the club's strategy is: Play good defense, bend but don't break, and try to score off opponents' mistakes (the winner last week came via Tim Ream's turnover to Danny Mwanga). Nine points off four games means it's not likely this plan will change anytime soon.
Seattle:
Head coach Sigi Schmid decided to go with a 4-3-3. With Rosales and Zakuani on the wings and White as the lone striker, the Sounders scored twice. With this combination yieldeing results, there's no need to make any tactical changes for this matchup against Philadelphia.
Intangibles
Philadelphia:
Neither Le Toux nor Mwanga has scored yet this season. In 2010 the two combined for 21 goals. If their struggles continue, their lack of scoring could become a distraction.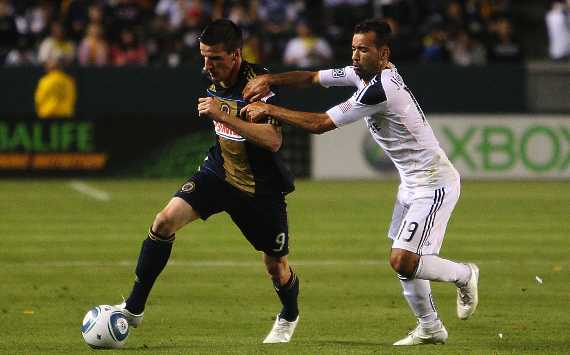 Seattle:
The Sounders appear to have found their footing after struggling early in the season. Their confidence is high on offense and defense. Keller provides the leadership and confidence to continue the Sounders' rise up in the Western Conference standings.
Outcome
Ramin Majd:
Continuing last year's trend, the Union have been tough to beat at PPL Park; while the season is still young, the club have won both home games in 2011. But Philly can't count on winning off mistakes forever. The Sounders are finding their form and haven't lost in three games. Philadelphia 1-2 Seattle.
John Zielonka:
In a tight defensive struggle, each side earns a point. Philadelphia Union 1 (Le Toux) - Seattle Sounders FC 1 (Zakuani).
BONUS VIDEO:
Seattle Sounders defender Jeff Parke and head coach Sigi Schmid scout their Eastern Conference opposition in this video shot at training:
Follow Goal.com on

to get the latest soccer news directly. Check out Goal.com's

page; be part of the best soccer fan community in the world!