On Form:
D.C. United:
Dax McCarty. Acquired just this offseason, McCarty has already been handed the keys to this United side, and Saturday will be his first chance to really show off his goods in front of the United faithful. Recently named captain, McCarty was picked up in a trade with Portland following his selection in the expansion draft. Manager Ben Olsen has already entrusted him with running his team on the field, and McCarty's performances in the pre-season will give United fans hopes for the upcoming season. McCarty has already earned the rights to most of United's set pieces, so he'll be ever present on the field. He'll also stand out due to his red hair.
Columbus Crew:
Sebastian Miranda has looked like a old hand since his arrival in the off season. The 30 year old Chilean fullback is playing in the spot that had been occupied by Crew talisman Frankie Hedjuk from 2003-2010. Large shoes to be filled, but Miranda appears to be making the transition to MLS seamlessly. What he lacks in flowing locks and two legged challenges he makes up for in his positioning and 1v1 defending. With the rest of the backline in doubt, look for Miranda to be all over the pitch on Saturday.
Off Target:
United:
Josh Wolff. The experienced striker picked up in the re-entry draft hasn't had the best pre-season with his new side, although Olsen seems to still think he will start against Columbus. The goals have been lacking for the former USA man in pre-season, and with some guy named Charlie Davies breathing down his back for playing time, Wolff might be feeling the pressure of putting in a good shift come Saturday.
Columbus:
A little early to say with any real conviction, but the Robbie Rogers that has been on the pitch the past two years merely looks like the real Robbie Rogers, and not the sensational early 2008 form Rogers. One just needs to watch his shots from the CCL quarterfinal second leg in Rio Tinto; he had four or five decent chances and not one threatened the target, with his last effort looking like one of my tee shots, a dreadful slice way right. With more than half of the Crew's goals from 2010 now playing elsewhere, and Robbie being one of the veteran players, he has to step up this season.
Tactics
:
United:
Olsen loves playing with a standard 4-4-2 -- with a slight lean on a 4-1-3-2. The only tactical decision he has to make on Saturday is in the midfield. His two choices are starting either Branko Boskovic in the middle along with McCarty, or Kurt Morsink. With Boskovic in the middle, United will have a more creative force in the side, and someone who is more capable and comfortable on the ball.With Morsink in the lineup, there will be more bite in the midfield, and Columbus will find it harder to move up the field centrally. If Olsen doesn't expect an attacking lineup from Columbus, then he might just start Boskovic in the middle. If Morsink starts, Boskovic could still get the starting nod, just in place of Chris Pontius on the left.
Columbus:
For the first time in his three seasons as manager, Robert Warzycha has the roster that he wanted, a young and fast team built to play on the counter.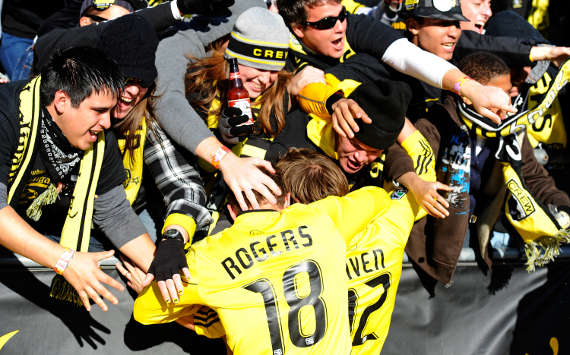 The Crew look to rule the East
With the departure of Guillermo Barros Schelotto, Warzycha will now look to play two true forwards in a 4-1-3-2, with a combination of Andres Mendoza, Emilio Renteria and Crew old boy Jeff Cunningham looking to supply the goals. Expectations are rather subdued in the Crew Nation, and if the team starts out hot, there is no reason the Crew can not make the playoffs in a weak Eastern Conference.
Intangibles:
United:
This United team is out to redeem themselves after a horrendous 2010 season. Even the new players who have just joined this season seemed to have taken on the burden of trying to right the wrongs from last year. In front of a home crowd, this team has the tools to get off to the right start this season. And it will also be the first game with Olsen in charge as the full-time manager, which will give more motivation to players and fans alike. Also, anytime one can bring Davies off the bench is a plus.
Columbus
: While the Crew have already had the CONCACAF Champions League Quarterfinal, the team that was defeated 4-1 on aggregate will have no less that four changes. Ray Burse is no longer on contract, and Josh Gardner, Cole Grossman and Rich Balchan are odds on to move to the bench to make room for first choice players, including the first competitive action since October for Crew number one Will Hesmer, returning from a collarbone injury that kept him out for more than five months.
Outcome:
United:
Not all is fixed with D.C. United, and Columbus, despite all their offseason changes, will ask plenty of questions. Columbus goes ahead, before Davies equalizes off the bench in a 1-1 draw.
Columbus:
With both teams coming to First Kick as question marks, it is difficult to see a goal for either team on opening day. A nil nil draw with chances at a premium looks likely.
Follow Goal.com on

to get the latest soccer news directly. Check out Goal.com's

page; be part of the best soccer fan community in the world!