Will New York's designated players make Seattle miss their departed ones?
On Form:
Red Bull New York:
Not even a preseason of middling results can temper the optimism surrounding the 2011 New York Red Bulls. Hans Backe, Erik Soler, Red Bull Arena, and the myriad quality signings have created a sense in New York that the club is finally prepared to fulfill Alexi Lalas' promise to become MLS' flagship franchise. Despite 2010 being one of the best years in club history, there is a feeling that this season will be the first time New York obtains some actual silverware. Thierry Henry and Rafa Marquez have the potential to be the stars able to lead a deep squad comprised of Joel Lindpere, Tim Ream, and other promising players through the rigors of the MLS postseason. And, of course, there is Clever Hans, the Swedish head coach who seems to already understand the intricacies of MLS that have befuddled more accomplished foreign imports. A victory over Seattle would be the proper way to show New York is prepared to challenge for MLS Cup.

Seattle Sounders FC:
In the wake of the sudden departure of Blaise Nkufo, O'Brian White made his Seattle debut at forward in last week's 1-0 loss to the LA Galaxy. The former Toronto FC player was credited with four shots and narrowly missed notching the equalizer in the second stanza of play. If he and Fredy Montero can develop a scoring bond, the Sounders could have a solution to their early season offensive frustrations.

Off Target:
New York:
Alas, we are talking about the New York Red Bulls. Remember when the 2008 Red Bulls rose past the Houston Dynamo and Real Salt Lake to a Western Conference crown? One of the worst seasons in MLS history followed that random arrival in the finals. It would be Metro-esque for Juan Agudelo to fizzle in his second campaign and for the club to receive a fourth seed and a first round playoff exit. A loss to the Sounders in their first ever MLS match was the opening disappointment during that difficult 2009.
Seattle:
The Sounders announced the departure of Designated Player Blaise Nkufo a couple of hours prior to kickoff. According to head coach Sigi Schmid, the team and Nkufo reached a mutual decision to part ways that supposedly had been reached several days before. This had to be a distraction, and the Sounders never seemed to hit their stride in challenging a Galaxy team that was missing four starters. Seattle's focus needs to return to the pitch by putting the short-lived Nkufo saga behind them.
Tactics
New York:
Backe appears poised to employ his usual 4-4-2; the personnel placed within that formation, however, is difficult to predict. The club is still yet to even announce whether last year's starting goalkeeper, Bouna Coundoul, or his backup, Greg Sutton, will be in the net for the Red Bulls. Here are a few players we can pencil in: Henry up top, Roy Miller at left back, Tim Ream and Rafa Marquez at centerback, Joel Lindpere somewhere in the midfield, and Dane Richards at either forward or his usual right midfield. Jan Gunnar Solli and Teemu Tainio should be in the lineup, but which will be at right back and which will play centrally is still a mystery. Tony Tchani could be playing defensive midfield while Backe wants to find a place for the creative Mehdi Ballouchy. Juan Agudelo could pair with Henry up top, as it seems that he has overcome his groin injury.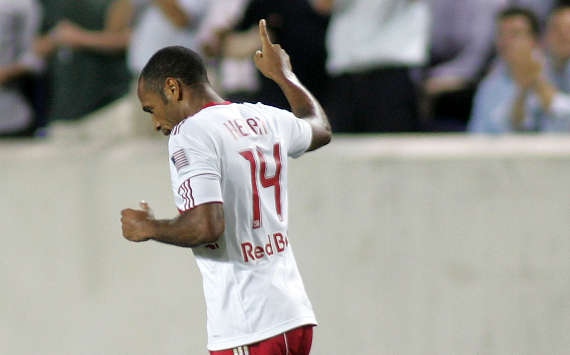 Theirry Henry is in his first full season with New York

Seattle:
Look for Schmid to have more distributions go through midfielder Steve Zakuani. The veteran gaffer made a tactical change last week to ensure that more passes headed towards Zakuani. With Montero playing further away from the net and utilizing Zakuani to disrupt New York's defenders, the former first round draft pick from Akron could be the key ingredient in Seattle earning its first points of the season.

Intangibles
New York:
Inaugurating the Sounders to MLS, the Red Bulls have had an interesting relationship with the team from the Emerald City. 2009 undoubtably belonged to Seattle -- the aforementioned loss on opening day and Jeremy Hall's gaffe to let Fredy Montero equalize and effectively end any playoff push were two low points in an awful season. 2010 and the teams' split records were a positive direction for the Red Bulls while 2011 may finally be the campaign where RBNY wins the series.

Seattle:
The Sounders played last week Tuesday in the MLS opener. They had to make the long trek to New York for this Saturday's game against the Red Bulls. If Seattle doesn't score early, the fatigue factor may prevent any second half offensive fireworks.
Outcome

Avery Raimondo:
The Red Bulls will buck their woes against Seattle with a 2-1 victory over the Sounders. After a full preseason with the Red Bulls, Henry will be refreshed and open the scoring before Lindpere gets his first goal in 2011. I suppose Montero can have one as consolation.
John Zielonka:
The Sounders lose their second in a row that will make the long trip back to Seattle even longer. Seattle Sounders FC 1 (Montero) – 2 New York Red Bulls (Henry -2)
Follow Goal.com on

to get the latest soccer news directly. Check out Goal.com's

page; be part of the best soccer fan community in the world!