Bottom of the barrel.
In Form
D.C. United
: Andy Najar continues to be United's best player this season, as evident by his performance and goal against Los Angeles last week. Not only is the 17-year-old midfielder tied for the most goals on the team with four, but he is also just one goal away from tying the D.C. United rookie record. It might be difficult for United supporters to admit that Najar has been their best player this season, but even if United was having a decent season, Najar would still stand out. Najar is easily a candidate for rookie of the year, if not a shoe in (not the opinion of this author), so you can expect to see another strong performance out of the midfielder against Houston.
Houston Dynamo
: As atrocious as the Dynamo were in the second half of the game against Kansas City, one positive comes to mind. Striker Cameron Weaver had a fantastic game, scoring the first goal and picking up an assist on a great flicked header. The Houston Dynamo don't have a whole lot going for them right now, but at least they have depth at the striker position. At this point, the Dynamo are just looking for positives going into the offseason and towards next season, and it appears Weaver is one of them. Then again, he could be left unprotected in the expansion draft and picked up by Portland or Vancouver.
Off Target
D.C. United
: United's defending and ability to close out games. Last week, those two went hand in hand. After Najar gave United an unexpected lead against the league leaders in LA, D.C. was about 10 minutes away from picking up all three points away from home in what might have been the shock result of the season. Instead, two horrible mistakes at the back cost United, as Landon Donovan scored twice in the final minutes; United snatched defeated from the jaws of victory. It's as much of a mental hurdle that United needs to clear as it is a physical one. The side has the ability to maintain composure, but they need to learn to do so as an unit.
Houston
: Sadly, it appears that Pat Onstad's age has finally caught up with him. Houston's defense wasn't exactly good against Kansas City, but a couple of the goals could have been saved by a younger Onstad and he was beaten a couple of times on Wizards shots that didn't hit the back of the net. With the season over and Tally Hall injured, it might be time for the Dynamo to give academy product Tyler Deric a chance to prove himself in net.
Tactics
D.C. United
: One of the few changes manager Ben Olsen is likely to make is to bring back Branko Boskovic into the starting lineup. The Montenegrin was on the bench against LA after missing the Toronto game due to international duty. Olsen seems to favor the 4-1-3-2 when Boskovic starts, which means we'll likely see Stephen King anchor the midfield, with Boskovic, Santino Quaranta, and Najar just in front of him. Pablo Hernandez and Danny Allsopp should start up top together, although they are lacking the chemistry that United really needs up front, in addition to the lack of finishing ability. In defense, Troy Perkins will get the start in goal, with a back four likely consisting of Jakovic, James, Zayner, and Graye.
Houston
: I thought that Dominic Kinnear was going to go with an experimental lineup on Wednesday, but he went with a fairly standard setup. Maybe he'll experiment against a bad D.C. side? It's kind of hard to imagine that he'll do so after the Kansas City match, actually. I should just copy and paste the tactics section from the Houston vs. Kansas City preview because my feelings haven't changed at all. The season is over, Dom. Do something crazy. We know your team is proficient, yet finds a way to screw things up in your current setup. Get creative.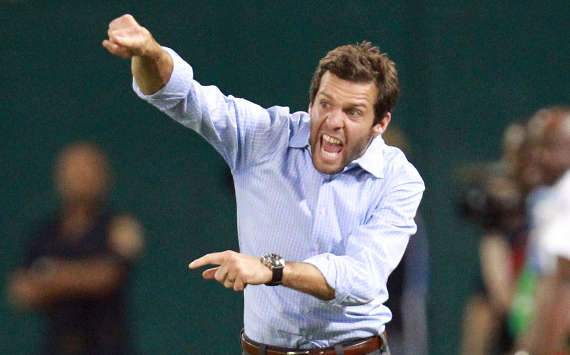 Intangibles
D.C. United
: Now that D.C. United is mathematically eliminated from the playoffs, the team has the luxury of playing some guys who might need some good performances at the end of this season if they want to play for United next season. That little bit extra motivation might spur some players on. United has looked better over the past two games, beating Toronto in Canada and then nearly getting a result in Los Angeles against the Galaxy. If you can assume that some players might actually want to play for United again next season (which admittedly, is a stretch), then you might just see a player or two step up their performance.
Houston
: In the last preview, I said that the Dynamo just need to go out there and have some fun. It seemed like they did that in the first half, then came out sluggish in the second and grew extremely frustrated when the Wizards scored, even though they were still leading at that point. This is a broken team, and this section of the preview seems pointless. It appears that there is nothing that can be done to get this team to a point where they are both focused and enjoying themselves. Mentally, the Dynamo look cooked.
Prediction
D.C. United
: Neither team is very good and neither team scores many goals, which usually leads to boring matches. Both teams aren't heading to the playoffs this year, which could lead to a more exciting match, but United will sneak a cheeky 1-0 victory against Houston.
Houston
: The good news is, D.C. United is the only team in the league that's even worse than the Houston Dynamo. Let's call it a 2-1 win for Houston.
For more on Major League Soccer, visit Goal.com's MLS page and join Goal.com USA's Facebook fan page!