Played
September 23, 2010 8:00 PM EDT
Soldiers Field Soccer Stadium — Cambridge, Massachusetts

Attendance:‬ 2676‎
Philadelphia Independence And Boston Breakers Duel With Finals Berth At Stake
After Thursday's match, either Boston or Philadelphia will be heading to the West Coast to take on FC Gold Pride in the WPS Championship.
By Giovanni Albanese Jr.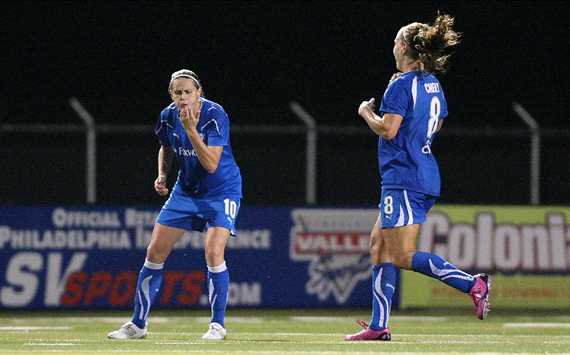 Who is going to advance to face FC Gold Pride in the WPS Championship on Sunday?

The answer to that question will be answered on Thursday night after the Philadelphia Independence and Boston Breakers battle it out in the WPS Super Semifinal at Soldiers Field in Boston.

Philadelphia, a WPS expansion team in its inaugural season, finished the regular season third, a point behind the second-place Breakers, and advanced to the semifinal match by way of a 1-0 overtime win over the Washington Freedom on Sunday at home.

In the victory, former Breaker Amy Rodriguez netted the lone goal of the match in the 120th minute, putting an end to the Independence's four-game losing streak.

"Our hands are full to try to contain her," said Rodriguez's former coach, the Breakers' Tony DiCicco. "She has great speed and quickness and has been getting off quality shots all season long."

Rodriguez got out of a recent funk, scoring her first goal in six games while taking 10 shots in 43 touches against the Freedom. It was her 13th goal of the season; in 2009 in her rookie year with Boston, Rodriguez netted a single goal.

"She has been very consistent this year and her hard work on the practice field has really paid off," said WPS Coach of the Year, Independence's Paul Riley.

In four meetings this year, Boston has the edge, winning twice and drawing the other two. In the only meeting in Massachusetts, the match ended in a 1-1 draw.

Both clubs appear to be evenly matched, accordings to the coaches. Riley says there is one player the Independence need to shut down if they'll leave with a win.

"Obviously we need to deal with the Kelly Smith factor," said Riley of Smith, who was fourth in WPS with 11 goals. "I feel like this is the second leg of the triple crown: we had to deal with Abby Wambach, now Kelly Smith, and hopefully we can get to the final leg against Marta."

It'll be difficult for the Independence, who played 120 minutes on Sunday and need to travel north just four days later for a match against a Boston team that has gone 9-2-3 to get second place.

"Four days between games is plenty of time for elite players to recover so they will be fine," said DiCicco. "Boston does not expect anything less than Philly's best on Thursday; they should expect the same from the Breakers."

Both clubs will have their full rosters available on Thursday. Kickoff is 8 p.m. ET and can be viewed on Fox Soccer Channel.

For more on Women's Professional Soccer, visit Goal.com's WPS page and join Goal.com USA's Facebook fan page!
Field Report
Top 3 Predictions
Boston Breakers 0-1 Independence

45.46 %

Boston Breakers 1-2 Independence

27.27 %

Boston Breakers 2-3 Independence

9.09 %