On Form
Kansas City Wizards
: In the final match of the season the Wizards are looking to end on a high note after a disappointing loss away to the New England Revolution last weekend. Kansas City is playing some great hard-nosed soccer right now, putting a lot of pressure on other teams, playing extremely physically and not allowing many chances. Their defense has tightened things up in the back and most likely should have had a shutout last week if it wasn't for one long ball and Jimmy Nielsen coming out too far. The offense also created a host of chances, they were denied two clear penalty shots, Kei Kamara came excruciatingly close on a free kick and Teal Bunbury hit the crossbar. They just need to take advantage of these opportunities and the goals will come.

San Jose Earthquakes
: Getting the obvious out of the way, Chris Wondolowski is definitely on form. His second-half hat-trick in the club's last game ensured a record-breaking season. He tied, then surpassed the single season scoring record set by San Jose's Ronald Cerritos. Now Wondo sits joint top of the league scoring charts. He also became the only Earthquakes player to ever score two hat-tricks. (Landon Donovan and Dwayne DeRosario both had one.) Wondolowski's isn't the only story that unfolded at Buck Shaw on Wednesday night, though. Ramiro Corrales made his first start since sustaining an injury on Aug. 7 against Colorado and looked sharp, while Ryan Johnson and Eduardo both looked good setting up Wondolowski's goals. If the team can get another performance like this against Kansas City, it should be primed to face whatever opponent the playoffs might throw at them.
Off Target
Kansas City
: Even though they have been creating chances, finishing is obviously a problem for the Wizards right now. They should have had two or three goals last week against New England but their inability to finish chances in front of goal prevented them from coming away with a win. I think the Wizards were feeling the pressure to make the playoffs and hopefully now with that stress off their their shoulders the Wizards can take full advantage and score some goals at home in their final game of the season. Besides a good game in defense, the goal that Kansas City gave up was a horrendous mistake and lapse in concentration. Another goal like this could see some players substituted out this weekend.
San Jose:
It is difficult to pick out any one player from the game against Chivas USA, but there are still some question marks lingering over the first-team players that Frank Yallop opted to rest on Wednesday, namely Khari Stephenson. The Jamaican impressed upon his August arrival, but has faded since, being largely responsible for some of San Jose's poor midfield play in defeats against Chicago and Houston. Geovanni might be included here too, but he came off the bench against Chivas USA and looked sharp.
Tactics
Kansas City:
With no pressure on them to make the playoffs and it being the final game of the season, it could be a good time to experiment a little. Kansas is usually a fast-paced offensive-minded team but it would be nice to see them change their tactics for this game. Try to get and maintain possession in midfield, build from the back, get the defense involved and control the flow of the game. If they are able to do this and take more time in building their attack it might make it easier to finish in front of goal. Teal Bunbury has been the main threat lately and Kei Kamara came agonizingly close last week - look for both to have impressive matches and hopefully bag a goal each.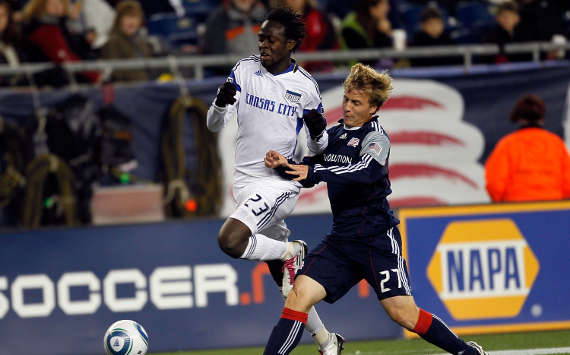 San Jose:
Yallop opted to rest most of his first-choice XI for the midweek game and it looks like he could do something similar against Kansas City. He confirmed at the post-game press conference that Golden Boot candidate Chris Wondolowski would see some time, but might not start. However, with a week's rest for much of the first team, he could choose to start a few more of them to keep them sharp for a playoff matchup one week removed from the game against Kansas City. Tactically, Yallop will stick to his favored 4-4-2 diamond, even if the lineup may not be set. Yallop also opted for a more open, attacking approach than normal that paid off against the Goats, but could go for a more conservative approach away on Saturday.
Intangibles
Kansas City
: If I have said it once, I will say it again, NO PRESSURE!! This is the biggest factor going into this match with San Jose. In their last few games the Wizards have been playing knowing that one mistake sends them out of the playoffs, but on Saturday night that pressure no longer exists. With that weight off the shoulder I believe we will see a much changed and improved Wizards team take the field. Unfortunately for Kansas City the previous meeting between these two teams did not go so well but the Wizards will want revenge, especially playing at home.
San Jose:
The Earthquakes are in the playoffs, but could face any of Los Angeles, Real Salt Lake, New York or Columbus in the first round. Out of those four, the best matchup for San Jose looks to be the Crew. Since New York defeated New England, the Earthquakes will need to stay where they are in the table. While the players will certainly give it their all, it will be interesting to see what kind of tactics Frank Yallop adopts with the knowledge of both the Seattle and New York results.
Outcome
Kansas City:
Unfortunately it's the end of the road for the Wizards, last game of the season and no reason to hold back. Kansas City is known for being a high intensity team as well as a physical one and they will want to come away with a win in their final home game to please the fans. Look for a high powered offense to get back on track and come away with a 2-1 victory on Saturday night.

San Jose:
I think a reasonably conservative approach from the Earthquakes will see a 1-1 draw with Wondolowski getting on the scoresheet to at least tie for the Golden Boot.
For more on Major League Soccer, visit Goal.com's MLS page and join Goal.com USA's Facebook fan page!