On Form
Houston Dynamo
: Since the Houston Dynamo's injury problems have cleared up and Geoff Cameron has been moved back to the center of midfield, the club has been playing much better soccer, and Cameron is at the forefront of this. His injury in April was a sorry blow to the team and injuries forced him back into central defense when he returned to the team in August. Since being shifted back into the midfield, Cameron has shined and been one of the few bright spots for the Dynamo. His athletic ability, proficiency at keeping possession, long shooting range, and ability to win 50-50 challenges against opposing central defenders and defensive midfielders is key for the Dynamo.
New England Revolution
: Despite losing a heart-breaker at home to RSL last week, the Revs can take some solace in the fact that their offense didn't look toothless. They out-shot the Claret-and-Cobalt 20-6 and both RSL goals came from set-pieces against the run of play. Should New England find a way to take that sort of aggressiveness with them to Houston and improve their efficiency in front of the net, they stand a good chance of taking points from an away match against a poor Dynamo side.
Off Target
Houston
: The central defense platoon of Bobby Boswell, Adrian Serioux, Eddie Robinson, and Ryan Cochrane is not playing up to par and hasn't all season. They played a fairly respectable game against Philadelphia, but their marking on Sebastien Le Toux's goal was poor. Historically, central defense has been a stable part of the Dynamo team and coach Dominic Kinnear can't be happy with the way this group has played.
New England
: Yet again, the Revolution was undone by the late goal. It cost them draws against Dallas and Columbus (and ultimately their playoff hopes), and now what should have been a good home result against one of the best teams in the league. The Revs absolutely have to improve their defensive discipline and concentration in the final minutes if they have any hope of taking positive points out of the rest of their matches this season. At this point, it may be all the chance they have of ending this season on a high.
Tactics
Houston
: There's no reason to believe that Kinnear will deviate from his normal 4-4-2 diamond setup. Brian Ching is injured for this game, so Cameron Weaver is likely to start at striker and will be paired by Dominic Oduro or Joseph Ngwenya. Geoff Cameron has been fantastic in the attacking midfield role and will likely stay there. Besides that, it's a bit of a crap shoot, but it seems plausible that Lovel Palmer will start behind Cameron and Brad Davis will occupy the left wing with either Corey Ashe or Danny Cruz on the right. As far as the defense, Kinnear might be willing to experiment and play a group of four that hasn't necessarily played together this season.
New England
: The Revs will soldier on in the 4-4-2, though they will be missing the dynamic Gambian duo of Sainey Nyassi and Kenny Mansally. Expect resident MacGuyver impersonator Chris Tierney to slot in at right wing, with Khano Smith likely to get a start on the left. Head coach Steve Nicol should continue to utilize his younger fringe players in an effort to evaluate the status of the squad going into the offseason.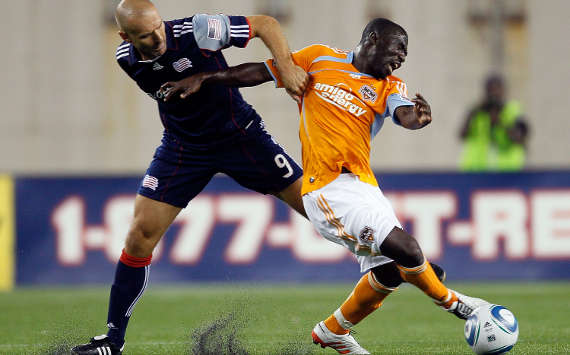 Intangibles
Houston
: Let's be honest, it's all about building positive momentum going into next year at this point. Bobby Boswell, Geoff Cameron, Danny Cruz, Brad Davis are (hopefully for Dynamo fans) the long-term linchpins of this side. If these four players in particular are playing well and linking up with each other, the Dynamo have cause for optimism going into next season. These players are the under-30 cornerstones of the franchise. There may be some upheaval in the Dynamo roster in the offseason, but these guys will almost certainly be retained and will be key fixtures in next year's team. They need to build momentum going into next season.
New England
: New England has a tremendous away record against Houston; since the San Jose Clash moved to Robertson Stadium, the Revs have posted an undefeated 3-0-1 mark against them in league play. Clearly the boys from Foxboro enjoy the heat of Texas. Also, the Revs will be playing in front of old friend and MLS legend Steve Ralston, who took over as assistant to Dom Kinnear after retiring in New England this season. The sentimental feelings will end at the opening whistle, as there is no love lost between these two teams.
Outcome
Houston
: Believe it or not, the Dynamo have never beaten the Revolution at Robertson Stadium in the regular season. In the Dynamo's current form, that trend won't change. 1-1.
New England
: A few months ago the Revolution handled the Dynamo in what was admittedly a sloppy affair at Gillette Stadium while in the midst of a stunning unbeaten run that nearly saw them catapult into playoff contention. While the Revs form hasn't been nearly as good of late, their offense has looked more dangerous and the Serbian sensation Ilija Stolica has managed to settle into his new digs and make even greater contributions. Considering Houston's terrible form and season, New England should edge them 2-1 in what will be a tightly-contested but sloppily-played affair between two teams with nothing but pride on the line.
For more on Major League Soccer, visit Goal.com's MLS page and join Goal.com USA's Facebook fan page!