On Form
D.C. United
: Kurt Morsink had just about the game of his life last week against Colorado, as United shockingly picked up all three points on the road in Denver. The defensive midfielder was all over the field for D.C., ensuring not only that United was able to preserve a clean sheet, but pick up all three points in the process. Morsink was composed on the ball and was vital in stifling the normally potent Colorado attack. A couple of more performances like that might just see United keep Morsink, despite him being a signing of former manager, Curt Onalfo.
San Jose Earthquakes
: It's all about the Earthquakes' focus. After a 3-0 home loss to the fading Chicago Fire, the Quakes flew cross country and played the Eastern Conference-leading Columbus Crew to a scoreless draw, inching closer to its first playoff appearance since rejoining MLS in 2008.
Columbus put a bunch of pressure on San Jose's back line, but the foursome of Brandon McDonald, Tim Ward, Jason Hernandez and Bobby Convey performed admirably, keeping the Crew out of the net. And Jon Busch, in a match against his former club, came up with four saves and a clean sheet.
Off Target
D.C. United
: Selection issues. For different reasons, United will be without 10 players this Saturday against San Jose. That makes life tough in the nation's capital. Most of those missing are due to injury, so their absence was expected. But Dejan Jakovic, Julius James, and Branko Boskovic are away on international duty, while Najar will be missing due to yellow card accumulation. It's been a rough season all year, and with United looked to string together a couple of victories the absences against San Jose will make it difficult.
San Jose
: Offense. Outside of Chris Wondolowski, that is. As a club, the Quakes haven't scored in two matches. Aside from Wondo -- who scored all three in the 3-2 win over Toronto FC on Sept. 25, and the lone goal in a 1-0 win over Philadelphia on Sept. 15 -- no one has scored in five matches, dating back to the Sept. 5, 2-1, win over the Houston Dynamo (Khari Stephenson and Geovanni).

Tactics
D.C. United
: With those couple of guys out for international duty, picking a starting XI for United will be difficult. Both the starting center backs will be gone, which means Jed Zayner and Clyde Simms are likely to start there instead. Jordan Graye and Devon McTavish should be out wide to go with Perkins in goal. In midfield, expect to see Morsink get the start alongside Stephen King. It's more defensive than most would like to see, but Ben Olsen's hand is forced here. Santino Quaranta will start on the left, and Carlos Varela should get the nod with Najar suspended. Up top, the usual suspects in Pablo Hernandez and Danny Allsopp will get the start.
San Jose
: Earthquakes coach Frank Yallop made a statement to some of his players on Saturday's 0-0 draw at Columbus by benching Geovanni, Chris Leitch and Sam Cronin. Cronin and Geovanni got time toward the end of the match but the point was made -- no players are guaranteed playing time under Yallop's watch. That said, with Ryan Johnson (Jamaica), Cornell Glen (Trinidad & Tobago) and Arturo Alvarez (El Salvador) all missing Saturday's match while on national team duties, you can expect the 4-4-2 formation with the usual suspects back in.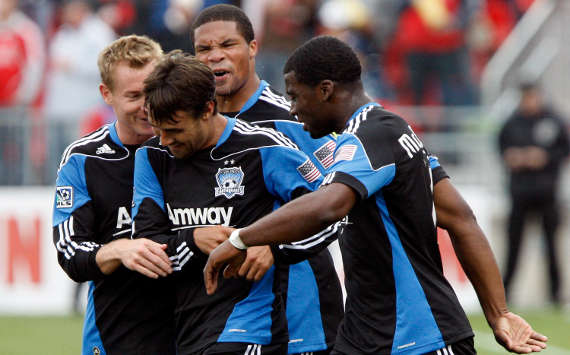 Intangibles
D.C. United
: Hey, how about going out and winning a game they weren't supposed to? That sort of happened against Toronto, but the Canadians were just playoff pretenders. Colorado is the real deal, and United went there, and earned a win. Wasn't pretty by any stretch of the imagination, but that's not what matters anyways.
San Jose
: It isn't official -- albeit a mere formality -- that San Jose will be involved in the 2010 MLS playoffs. A win, coupled with a Kansas City loss (Saturday vs. Seattle) will secure the berth for the Quakes. So, despite going up the worst team in MLS in D.C. United (in terms of points), the Earthquakes will come out with plenty of aggression looking for the three points.
Outcome
D.C. United
: San Jose would love a point on the road, so they'll likely set up that way. D.C. will want to go and prove that last week was not a fluke, making for a tight game that will end in a 1-1 draw.
San Jose
: After the embarrassing loss at home to Chicago, coupled with the potential clinching of a playoff spot, the Earthquakes will not have a let down. D.C. United will come out hard, attempting to play spoiler, but it will be the better team leaving RFK Stadium with the win. San Jose 2-0 D.C. United.
For more on Major League Soccer, visit Goal.com's MLS page and join Goal.com USA's Facebook fan page!