The Supporters' Shield hopefuls head to Foxboro.
On Form

New England Revolution by Steven Stoehr: It's been the same story all year - the Revolution's form player is still Marko Perovic. After exploding onto the scene during midsummer and compiling an impressive scoring record in the league and SuperLiga, the Serbian dynamo has added two assists to his MLS portfolio in the last two games. All season he's looked to be the most dangerous player on the pitch for the Revs and fans should be excited at the prospect of having him around next year after being given a season to adapt to the league and his teammates.
Real Salt Lake: RSL are coming off two encouraging results. First, they drew a very tough Colorado team at home despite fielding a team of reserves, and second, they managed a Champion's League draw in Toronto despite having the most miserable travel experience since that time I took my girlfriend to prom in a '76 Pinto. The draw in Toronto was enough to put RSL into the knockout phase of the Champion's League, so now they can return their focus to the Supporter's Shield and the playoffs. Oh, and the team's most important player - Javier Morales - is back, too.
Off Target
New England: Yet again the Revs were undone by late goals against Columbus last weekend. Like in Frisco, New England was able to jump out to an early lead, stretch it into two goals and then maintain it for the majority of the match. However, a lack of discipline and defensive consistency proved their downfall once more as a vital victory slipped through their grasp and ended up being the final death knell on their already-dim postseason hopes. If they hope to end what has been an incredibly frustrating season on a high note, the Revolution will need to tighten up at the back and maintain focus for the full 90.
Salt Lake: Despite the fact that RSL haven't lost a game in a long time, amazingly they have given up the first goal six times in the last month. Yes, they've battled back in all those matches, but eventually it's going to catch up with them. The reason for the consistent pattern of falling behind has been a lax effort in the first 20 minutes of each game. Teams are punishing Real for coming out slow. They need to fix this because it's going to cost them a result before too long.
Tactics
Revolution:
The 4-4-2 works for the Revs right now and Steve Nicol probably won't change that. In a season where consistency has been so elusive it just wouldn't make sense to switch up something that works. Kevin Alston left the match on Saturday in the first half with a hamstring problem, but no news has emerged from Foxboro on his status, so it's difficult to say if he will make the start against RSL or if someone like Tierney (a late scratch last match) or Osei will slide over. Expect Sinovic and several of the other young guns to get more time as the season winds to a close now that the playoffs are out of the picture.
Salt Lake: After playing reserves in his last MLS match and starters in Champion's League, Jason Kreis will probably strike more of a balance in New England. Guys who didn't play in Toronto (like Espindola, Beltran, Gonzalez, etc.) will probably see minutes, but more than a few players will be going on four days rest. Of course, with the recent schedule, four days rest is probably feels luxurious to the major-minute workhorses like Borchers, Johnson, and Wingert.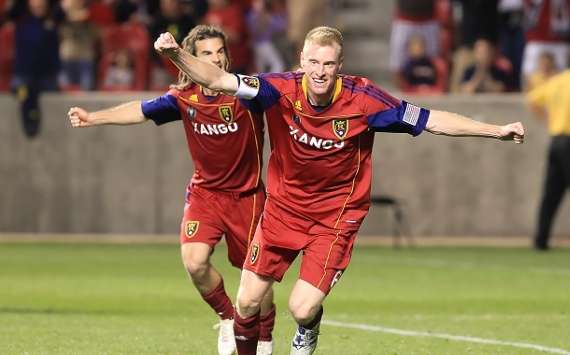 Intangibles
Revolution: For the first time since 2001, the New England Revolution will miss out on the MLS Playoffs, snapping their record streak of nine straight postseason appearances. While the disappointment may weigh heavily on the minds of some, this also means that the Revs have nothing to lose. At this point the players are playing for their jobs next season and the younger or fringe players may be tempted to leave their comfort zone and take risks, possibly resulting in more exciting and effective play.
Salt Lake: With qualification for the knockout phase of Champion's League behind them, RSL can now turn their attention back to MLS play. And not a moment too soon, as the team has appeared distracted lately. Given the current playoff picture it seems likely that Salt Lake have more to play for, there are Revolution players who are likely playing for a seat at the table next year, and teams in that position are dangerous.
Outcome
Revolution:
A few months ago New England traveled to Rio Tinto and got spanked 5-0 in a rout that ended up spurring the Revs on to a long midsummer unbeaten streak and a trip to the SuperLiga final. Embarrassing scoreline aside, during the match Salt Lake forward Fabian Espindola struck Cory Gibbs in the face repeatedly in an off-the-ball confrontation and wasn't disciplined at all for it, but then followed it up with a heinous display of poor sportsmanship by taunting the Revolution after scoring the opening goal. The Revs will want to avenge their worst loss of the season, and may also be looking for some personal retribution against the Argentine. That said, RSL is arguably the best team in the league right now and their trip to Foxboro won't likely be heartbreaking for them. RSL wins 2-1.
Salt Lake: The focus may be back on league play, but the effects of six matches in 18 days don't just disappear with the improved focus. New England Revolution 1-1 Real Salt Lake.

For more on Major League Soccer, visit Goal.com's MLS page and join Goal.com USA's Facebook fan page!