It'll be a fight for playoff positioning in this one.
On Form

Red Bulls by Terence Steed: The entire New York Red Bulls midfield is in great form. From left to right: Joel Lindpere has consistently played at a high level all year. Tony Tchani is coming into his own and plays much better when Rafa Marquez is his partner and Mehdi Ballouchy provides support. Rafa Marquez's demanding nature takes the pressure off the rest of the team, which raises the teams level of play. Finally, Dane Richards is enjoying the most consistent play of his career and has been instrumental in creating the openings the Red Bulls need to break down opposition defenses.
Kansas City Wizards by Isabel Navarro: Last Saturday's game was a devasting loss for Kansas City, they went up against Dallas and failed miserably losing the match 3-1. The only player that stood out was the lone goal scorer Ryan Smith. The midfielder attempted a few shots before halftime but was unable to score. His determination eventually paid off. Smith showed the hunger to win that so many Wizards players lacked.
Off Target

Red Bulls: As a team the Red Bulls are playing well, controlling possession and creating chances. A front line of Juan Pablo Angel and Thierry Henry should be more prolific, but the team is still adjusting to so many new players. At this point it's hard to say that any one player is experiencing a dip in form.
Wizards: The team showed so many weaknesses that it reminded viewers of the Wizards start of the season. Kansas City lacked focus and were all over the place. The beginning of the game was complete chaos, they gave up two early goals and were unable to come back from the deficit. They made the same mistakes they made against Houston but in the Houston game they were able to turn the game around. The Wizards lack consistency, not from game to game but from half to half. They keep showing a pattern of playing a weak first half and then coming out strong in the second half. They need to play at a solid level throughout the game in order to get good results.
Tactics

Red Bulls: 4-4-1-1. It would be fun to see Hans Backe trot out a 4-1-3-2, dropping Tchani to the bench in favor of Ballouchy and two strikers, but the Swede has proven himself to be a cautious tactician. Therefore, expect the same lineup that disposed of the Galaxy with the exception of Juan Pablo Angel who will be replaced by Thierry Henry if the Frenchman has fully recovered from his mild MCL sprain.
Wizards: It's time to put Birahim Diop back on the bench. He earned is starter spot by scoring two goals against New England but he hasn't really done anything since then. Diop took Teal Bunbury's starting spot but it's time to give it back. Although Bunbury has been performing better as a sub then he did a starter, it's time he got another try. He is a goal scorer and that is what the team needs right now and he needs the chance to prove himself.
Intangibles

Red Bulls: Juan Pablo Angel is maintaining a quiet professionalism while the club looks set to let his contract run out. While this might adversely affect some players, Angel is mentally strong and should take the lack of a new contract as a challenge.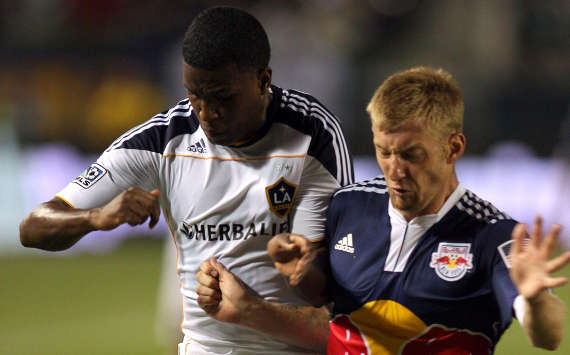 Wizards: They are currently in third place in the Eastern Conference with 33 points. The team is desperate for a shot at the playoffs. Before the game against Dallas it seemed like they were on the right track but now its up in the air. Kansas City need wins at home and on the road. Don't expect the Wizards to give up, they are still contenders.
Outcome

Red Bulls: 3-1 Red Bulls. New York is playing very well at the moment and they will certainly be looking to put on a big show for their home fans. The Red Bulls will have to keep an eye on Josh Wolff if they want a clean sheet. The veteran forward is in phenomenal form and should provide a good test for Tim Ream.
Wizards: The loss on Saturday could have been due to the fact that the Wizard's played 3 games in 7 days, they were exhausted. Now that they are well rested they can show what their made of. Kansas City has a tendency to defeating top teams. Look out New York, Kansas City 2-1.
For more on Major League Soccer, visit Goal.com's MLS page and join Goal.com USA's Facebook fan page!