The Earthquakes look to bolster while the Reds look to keep theirs alive.
On Form
Toronto FC:
Enough ink has been spilled about the consistent clutch performances of Dwayne De Rosario, so, his two phenomenal free kicks aside, let's talk about Chad Barrett. Barrett did not appear on the scoresheet on Saturday in Houston. Where he did appear, though, was on the Toronto FC broadcast's half-time show. There, in a manner most disgusted, he lambasted his team's first half performance and questioned the heart and commitment of his teammates after what might have been the worst 45 minutes in Reds' history. The sheer passion and candor from Barrett was incredibly refreshing in a world where pithy quotes from athletes are the norm ("We just gotta give 110%...they're a good club…we didn't get the bounces") and players are seemingly too afraid to say what everybody is thinking. Barrett's rant seemed to be the right tonic for the Reds and a completely different XI showed up in that second half to beat the Dynamo.
San Jose Earthquakes:
Don't look now, but the Earthquakes are 4-1-1 since a 1-0 loss at Colorado on Aug. 7. Much of this success is down to the stellar play of San Jose's makeshift defense and goalkeeper Jon Busch. Brandon McDonald has emerged to form a fantastic partnership with the tenacious Jason Hernandez, with McDonald using his athleticism and knack for reading the game to cut out nearly everything the opposing attack throws at him. Behind the defensive line, Jon Busch has been stellar, and as a result, the Earthquakes have conceded only three goals in those six games since the loss at Colorado. Up top, Chris Wondolowski scored his sixth game-winning goal of the season against Philadelphia while Geovanni has settled in nicely with the team.
Off Target
Toronto:
If that first half in Robertson Stadium was a movie from the Woody Allen oeuvre, it would have been Match Point. Simply put, the Reds' performance was beyond embarrassing. There wasn't a single player on that pitch who played with any desperation, urgency, or seemingly a care in the world. That was not a team fighting tooth and nail for their playoff lives, but more like a Saturday afternoon beer league team. Yes, the effort got appreciably better in the last 45, yet if it weren't for De Rosario's brilliance, Saturday night would have been another lost three points on the road. TFC simply isn't in the position to take a single minute off. Every second counts and the Reds seem like they're hell-bent on learning that the hard way. If they play anything like they did in Houston for any stretch of time against San Jose on Saturday, they will be buried.
San Jose:
Although the results have been positive, the level of play hasn't always matched them. While some will argue that in the end, it is the results that matter, the reality is that the Earthquakes are still not serious contenders for the MLS Cup. This is largely because the 'Quakes struggle to control play for much of their games and sometimes depend too much on the individual performances of players such as Busch and Wondolowski. Although Frank Yallop's teams are never ones known for playing the possession game, last week that lack of control in the led to number of good chances for Philadelphia in the first half while resulting in sparse opportunities for San Jose.
Tactics
Toronto:
As of this writing, the statuses of Joseph Nane and Martin Saric, both injured in Tuesday night's impressive 0-0 away draw with Cruz Azul, are unknown. Other than that, TFC will be looking at a full complement of players on Saturday afternoon. With this being Toronto's penultimate home match, anything less than a win is an unacceptable result and the desperation missing in Houston must be present at BMO. Look for attacking football from the get-go from Nick Dasovic's side.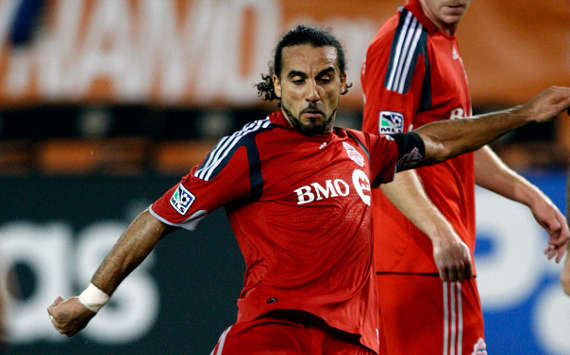 San Jose:
Long-term injuries aside, the Earthquakes are nearly back to full fitness, which will come as a relief for Yallop, whose side faces a tough run-in with six games in the last four weeks. There will be no changes in the defense that faced Philadelphia, though there could be a few shakeups in midfield. Arturo Alvarez found a bit of form with his assist to Wondolowski and should replace the struggling Joey Gjertsen on the right flank. Meanwhile, Khari Stephenson could go longer than the 45 minutes he saw against the Union as he works his way back to fitness. Geovanni will likely be used as a second striker with Chris Wondolowski, who will look to benefit from the Brazilian's quality service, along with that of Stephenson, Alvarez, and Bobby Convey.
Intangibles
Toronto:
While the 'Quakes' post-season hopes are in significantly better shape than Toronto's, both clubs are going to see this as a playoff encounter. San Jose, by virtue of a six-point cushion on ninth-place, is not in a must-win position per se, but Frank Yallop's club is looking to extend its current unbeaten run and head into the playoffs with a full head of steam. On the flipside, after their dramatic win in Houston and a strong defensive effort against arguably Mexico's finest team midweek, Toronto's confidence is running high and the team believes that its season has turned a corner. The team that comes out with the more professional, nose-to-the-grindstone effort on Saturday afternoon is going to walk away with full points.
San Jose:
Although a 10-day break will leave the team well rested, the Earthquakes fly to Toronto on Thursday, then back to the Bay Area after the game to face Chicago in a midweek game before traveling back across the continent to face Columbus a week after the Toronto match. With plenty of travel ahead in the the stretch run and a roster recovering from injuries, the team will have to manage their exertion carefully and strike a balance that will both see them into playoffs and keep them healthy.
Prediction
Toronto:
The Reds' playoff hopes live to see another day with a 2-1 win over the Earthquakes.
San Jose:
The Earthquakes have lost both previous matches at BMO Field, but their defense should earn them a point in a dull 0-0 draw.

For more on Major League Soccer, visit Goal.com's MLS page and join Goal.com USA's Facebook fan page!