FRISCO, Texas -- FC Dallas were lucky to extend their unbeaten streak to 16 games after a 2-2 draw with the New England Revolution. Shalrie Joseph put the Revs in the lead after just five minutes and David Ferreira went one for two on penalties in a game that neither team looked particularly impressive in.
Ilija Stolica scored the visitor's second goal and Jeff Cunningham took his all-time tally to 130 goals after securing the tie in the 93rd minute. Both teams will be disappointed with the result, New England for giving up a two goal lead and Dallas for barely managing to get any points from the fixture.
First Half
With FC Dallas captain Daniel Hernandez sidelined, Dax McCarty and Eric Alexander controlled the middle for the home side, but it's clear that partnership needs work. Dallas started abnormally slow and weren't able to keep much possession at all through the first 20 minutes. New England capitalized on Dallas' lethargic play in the fifth minute, when Chris Tierney lifted a ball over the FCD backline and Shalrie Joseph, held onside by Heath Pearce, finished easily by Dario Sala for his first goal of the year.
Unlike in other games, going down a goal did not kick-start the Hoops, and it wasn't until the 32nd minute that Dallas finally produced something offensively, albeit through questionable circumstances.
FCD forward Milton Rodriguez played a through-ball to Ferreira, but as he went to control the ball he was brought down in the box by Revs' midfielder Kenny Mansally. Replays showed that Mansally had in fact made contact with the ball first, but the decision stood and Ferreira stepped up to take the PK.
Despite being perfect on penalties so far this year, Ferreira's shot went wide right of the net and Dallas remained a goal down going into halftime.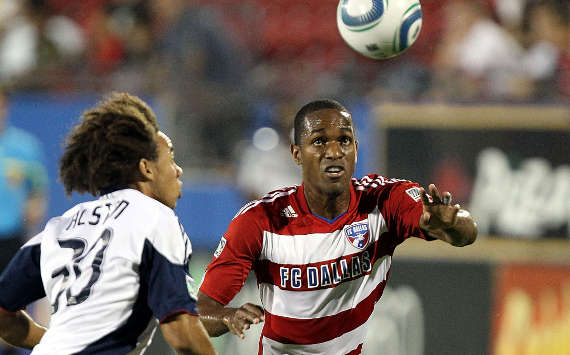 Second Half
Dallas came out much stronger to start the second half, registering two shots on goal in the first 15 minutes. The general level of play increased as well, but a defensive error by center back Jackson Goncalves led to New England's second goal of the night.
A long ball from keeper Matt Reis was poorly received by Jackson and rolled straight to the feet of Marko Perovic. Perovic drove towards the corner of the 18 yard box and slid a nicely-weighted pass right into the path of Stolica, who guided it home. The Dallas defense was too slow to track back and all but gifted the Revs a the two-goal cushion.
The inclusions of Jeff Cunningham and Ruben Luna seemed to spark the FCD offense, but it was the individual efforts of Ferreira that enabled Dallas to pull a goal back in the 80th minute. After receiving a pass from Eric Avila and getting by Revs' defender Kevin Alston just beyond the midfield line, Ferreira sped towards goal and was brought down by Darrius Barnes in the box.
Unlike his first PK attempt, Ferreira knocked home the second, giving his team a much needed lift.
New England sat back on defense and tried hard to pull out the upset, but Dallas showed their resiliency yet again and in the final minute of stoppage time Cunningham scored the equalizer.
Ferreira and Avila combined for a nice one-two that put Ferreira past the Revs' backline. Alone on goal, Ferreira might have had an attempt himself, but the midfielder found Cunningham at the back post and the veteran striker couldn't miss from a yard out. The New England players frantically yelled for offside, and replays showed that Cunningham may just have been so, but referee Baldomero Toledo waived off the objections and allowed the goal.
No doubt Dallas will prefer sharing the points over giving them all away, but coach Schellas Hyndman will certainly be unhappy with his team's performance overall. New England ought to have left Texas with a win after being the better team for much of the game, but poor defending once again wrenched away the result.
The tie makes it even less likely that Dallas will catch Los Angeles for the Supporters' Shield, however with a playoff spot all but guaranteed, their concerns will be elsewhere. For the Revs, any hopes of a post-season berth are surely gone, and as if there wasn't enough evidence already, this game proves yet again that they have much rebuilding to do in the off-season.
Next up Dallas travel to Kansas City to take on the Wizards, and New England host Eastern Conference leader Columbus Crew.
For more on Major League Soccer, visit Goal.com's MLS page and join Goal.com USA's Facebook fan page!