Will the unbeaten streak be broken?
On Form
FC Dallas:
Rookie midfielder Eric Alexander had an outstanding game against the New York Red Bulls last Thursday. A fine, controlled header to set up FCD's first goal, and some neat dribbling to score the second, proved exactly why coach Schellas Hyndman has preferred him over more experienced players during Dax McCarty's long injury layoff. Few can argue against the young man's potential, and with captain Daniel Hernandez now sidelined, there is no question who his replacement will be.
New England Revolution:
In a word: nothing. Nothing about the Revs is working right now and the entire roster should be wholly dissatisfied with the effort and performance being carted out on match days. Last week saw New England fall to yet another early goal, and it wasn't until the second half, when they were already 2-nil down, that they even looked interested in fighting for a result. This sort of performance won't be good enough in Dallas, either.
Off Target
Dallas
: Brek Shea has enjoyed a breakout year with FCD, but his tackle on Chris Albright last Thursday, and his ensuing behavior, raise questions as to whether the young midfielder is mature enough to go further. True, the whole incident was very uncharacteristic of Shea, but in a season that has already led to transfer speculation, happenings such as this one won't do him any favors. Fortunately for Dallas, the two-game suspension for Shea comes at a time when he might have been rested anyway.
New England
: At this point, critics can pick whatever tickles their fancy as the Revolution's biggest problem. A defense that looked so tenacious and assured for a long stretch over the summer has been summarily embarrassed over and over again in the last several weeks. The match in Colorado saw Darrius Barnes start the match on the bench, which was a bold but necessary move given his recent play. However, the Gibbs/Osei partnership paid no dividends and this offseason will be a time for the Revs to have a solid look at many of their roster stalwarts and determine if they are truly of the level necessary to succeed in MLS.

Tactics
Dallas:
Coach Hyndman won't risk further injury to Hernandez or goalkeeper Kevin Hartman, so it's very unlikely that either one will see the field this week. McCarty probably shouldn't go a full 90 just yet, but because of the circumstances he'll probably have to. He may get a rest late in the second half if Dallas are looking comfortable, but otherwise he and Alexander will hold down the middle of the park for FCD. Milton Rodriguez will almost certainly get the starting nod again after picking up a goal and assist himself against the Red Bulls. Jeff Cunningham should also get some minutes, and he'll be goal hungry after not getting on the field Thursday.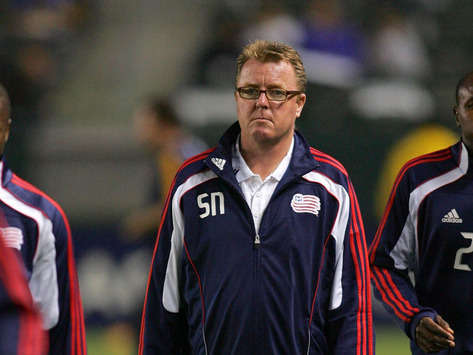 New England
: The Revolution started in the 4-4-2 again last night and that remains their most consistent formation, although Steve Nicol likes to revert to the 3-5-2 when chasing the game in the second half. Barnes may slot back into a starting role after last week's change made little difference. It is possible that this match could see Ilija Stolica beginning the game on the bench; Revs staff writer Jeff Lemieux has spotlighted several times that Stolica has mentioned the exhausting travel inherent in the MLS schedule as a problem that requires extensive adaptation, and against the Rapids the Serbian looked slow and out of sorts. It's difficult to imagine who could fill his role as a target forward, but benching him may be necessary for the player's sake.
Intangibles
Dallas:
The question for Dallas is whether or not to rest starters before the post-season, and if so, how soon? With two huge games left to play (away at Salt Lake and Los Angeles), Coach Hyndman will need to find the right times to give his men a break. Wednesday against New England may be one of those times, especially since New England are struggling.
New England Revolution: New England can cling to the fact that the Dallas franchise (now FC Dallas, previously the Dallas Burn) has been a punching bag for the Revs throughout MLS history. The Revolution are 22-10-1 versus Dallas, including a promising 11-5-1 road record. Furthermore, Steve Nicol is 14-4-1 as head coach of the Revs against the Hoops, including a stupendous 10-2-1 run since 2004. New England appears to be Dallas' "bogey team," and the Riders, Army and Rebellion will be hoping the trend continues on Wednesday.
Outcome
Dallas:
FC Dallas are playing very well despite key injuries. Even when they aren't at full strength, the Hoops find ways to get the results they want. Dallas should take this one comfortably, 2-0.
New England
: The Revs have been a positively atrocious road team all year, with a dismal record of 1-10-1 so far this season. That includes a 0-6-0 run away from home against Western Conference opponents. Meanwhile, FC Dallas hasn't lost in 15 matches and is nearly a shoo-in for a playoff spot. In fact, the Hoops have been on the fringes of the Supporters' Shield conversation recently, even if it would take a collapse from LA and RSL to make it happen. Despite previous successes against the Texas originals, prospects look bleak for the Revolution and it's likely they'll suffer another comprehensive defeat, this time 0-2.
For more on Major League Soccer, visit Goal.com's MLS page and join Goal.com USA's Facebook fan page!