On Form
New England Revolution
: The best news going for the Revs after last week's comprehensive loss to Chivas is the return of Marko Perovic from suspension. New England was sorely missing his spark and invention in attack on Friday and will be hoping that he can be counted on to unlock a stingy Rapids defense that has conceded 24 goals in 23 matches.
Colorado Rapids
: Omar Cummings is the player on form for the Rapids lately. With nine goals in sixteen games this season, Cummings is the man to watch when Colorado takes on New England at home on Saturday night. Pablo Mastroeni has been playing well in midfield as of late and has provided much of the great service for Cummings and Casey up top.

Off Target
New England
: There's plenty to consider off target, but a disturbing trend over the last few weeks has been the deteriorating play of Darrius Barnes. Generally, it's his partner Emmanuel Osei who has the scary moments and Barnes is around to clean up the mess and hold the line. Lately, however, Barnes' alarming lack of positioning sense has led to him playing opponents onside in far too many situations, which has cost the Revolution goals and valuable points. One of the goals in the Chivas game was such a mistake, as Justin Braun made a quick run to peel off the shoulders of the defensive line, and rather than holding position and stranding Braun offside, Barnes followed him and allowed Gordon's pass to find Braun in a dangerous spot, where he chipped Reis and scored. This cannot continue if the Revs want to return to winning ways.
Colorado
: After two consecutive shutouts, the Colorado defense gave up three goals against New York in last week's loss. Once again the Rapids did not start well and gave up an early goal from which they never recovered. The back line did not have a convincing game and were picked apart by the technical ability of the Red Bulls strikers. They need to tighten up at the back, play more physical defense and not allow players to get in behind them or Matt Pickens could be picking a few more goals out his net on Saturday night.
Tactics
New England
: New England should stick to the 4-4-2. Despite mixed success, it's been the best the Revs have had to work with all season. Perovic will slot back in up top with Stolica, and expect the experiment with Dube on the right to end as Nyassi should have recovered sufficiently from jetlag to start the match. There is little reason to believe that the rest of the lineup will see too many changes.
Colorado
: The Rapids need to exploit the speed and ability of their strikers against New England. The entire offense seems to be going through Omar Cummings, so they need to find him early and get him involved. Conor Casey and Omar Cummings are playing well and have formed a high powering attack in recent games but look for new signing Macoumba Kandji to make an appearance if the offense becomes stagnant.
Intangibles
New England
: If the Revolution wanted to make the playoffs this season, they really couldn't afford slips like the one committed in LA last week. A draw there would have been acceptable if not ideal, but the name of the game is points. Now, while the Revs don't have a favorable overall record against Colorado, especially away, Matt Reis does. He's posted a 7-6-3 record with five shutouts and a 1.12 GAA. Also, Colorado was the first MLS team to feel the wrath of Perovic when he buried a 30-yard free kick against them at Gillette earlier this season. New England will be hoping those two can continue their good form at Dick's Sporting Goods Park.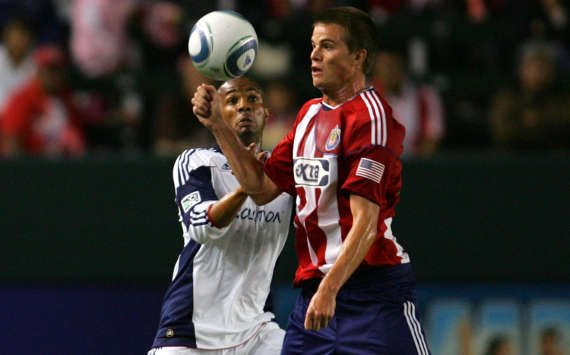 Colorado
: In the last meeting between these two teams Colorado came away with the victory with Pablo Mastroeni and Mehdi Ballouchy scoring for the Rapids. New England has not been playing well away from home and Colorado needs to keep the pressure up and maintain possession in midfield. Colorado will be hoping to profit from New England's poor run of form lately and the best possible start would be an early goal from Cummings or Casey.
Outcome
New England
: Colorado are a team as maddening in their inconsistency as any…in fact, one could say they are consistently inconsistent. That said, a tight defense and the addition of Macoumba Kandji and Brian Mullan in offense only reinforces their status as legitimate playoff contenders. Couple that with the Revolution's travails away from home this season and overall lack of success in Colorado, and New England fans will likely taste only heartbreak on Saturday. The Revs will go down 0-1 on an Omar Cummings goal, putting to bed all hope of a playoff berth in 2010.
Colorado
: The Rapids have only lost one game at home all season and have been playing well as of late. They have been scoring more goals and with even more attacking options with the signings of Macoumba Kandji and Brian Mullan the offense looks more dangerous than ever. New England have lost three of their last three away games and will have a hard time going into Colorado, so look for Cummings to add another goal or two to his season tally. The Rapids shouldn't be troubled much in this game and will come away with a 2-0 victory.
For more on Major League Soccer, visit Goal.com's MLS page and join Goal.com USA's Facebook fan page!