Win sees FA Cup winners inflict more misery on the Potters and means that a win against Bolton on Sunday will ensure automatic qualification into Champions League next season. A display of sheer brilliance from Carlos Tevez piled more pain on Stoke City as Manchester City tightened jumped above Arsenal into third place in the Premier League after an assured and comfortable display at Eastlands.
Coming after its triumph in the FA Cup on Saturday, Roberto Mancini's side put Stoke to the sword and ensured that the club's final home game of the season gave the followers more to celebrate.
Tevez's two goals were two of his best this season and showed the class Mancini has at his disposal. The future of Tevez is still in doubt and after this, the Italian will be desperate to retain his captain.
Mancini has already claimed a trophy in his first season and is on course to cementing Manchester City's highest league finish since 1978 and this result helped big style.
With silverware finally returned to Manchester City's cabinet after so long, the second part of Roberto Mancini's remit came to the fore. Champions League football will be played in the East side of Manchester next season, that much is beyond doubt, and a positive result against the Potters would make that prospect a whole lot easier.
With third place within its grasp, City had to set to work early to ensure it put maximum pressure on a quivering Arsenal side and make the most of its game in hand, and the club did just that.
An individual display of skill and brilliance from Tevez gave Mancini's men the lead after 15 minutes.
A pass from David Silva found Tevez, who moved in on the Stoke defence and linked with James Milner in a quick one-two to bamboozle Ryan Shawcross and a quick shimmy created the space for the Argentine to slot the ball beyond Thomas Sorensen.
It was a sublime goal and indicative of the truly great talent Tevez is blessed with and a talent Mancini will be desperate to retain for the forthcoming Champions League endeavor.
Tony Pulis' side were showing clear signs of fatigue from Saturday's defeat, both physical and mental. When losing any final the next match is going to be difficult.
Stoke appeared labored and lethargic in its application, and gave the club's fans very little to cheer in the first period. An uncharacteristic error from Joe Hart gifted John Carew with a decent enough chance at goal but his shot was deflected by Micah Richards.
The first half was generally uneventful save for Tevez's goal but Manchester City were leading and the sparse crowd at Eastlands were content enough with the effective if not entertaining fayre on offer.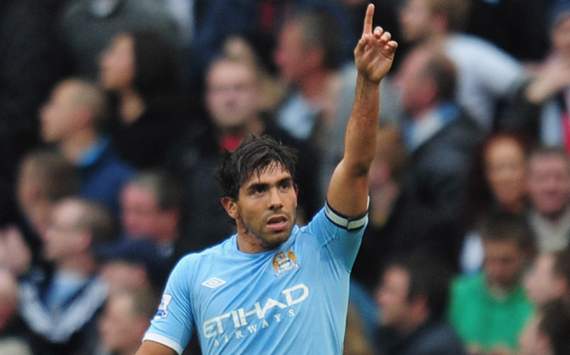 Carlos-sal display | Tevez hit stunning brace as City claimed third spot
The game was essentially killed off early in the second half. A powerful, surging run from Richards was stopped by Danny Collins but referee, Lee Probert felt unfairly and awarded City a free-kick.
Adam Johnson stepped up and floated in a delivery for Joleon Lescott to head past Sorensen. The marking from Shawcross was non-existent and Lescott punished this fully.
Shortly after David Silva was given a standing ovation as he was replaced by Edin Dzeko. The Spaniard's first season in England has been an excellent one and he was afforded the opportunity to milk this for all it's worth.
In contrast Dzeko's first season has not been as successful. This was exemplified when the Serbian beat the offside trap and failed to tuck the ball under Sorensen.
To compound matters for Stoke yet another show of Tevez's abilities was the recipe for the third goal.
A foul on Nigel de Jong gave City a free-kick almost 30-yards out and the Argentine stepped up to hammer a curling shot inside the left hand post of the Stoke net. Sorensen could do nothing about it but watch in awe. The goal rekindled memories of Roberto Carlos' free-kick in 1997 and Eastlands rose to appreciate it.
Tevez was substituted late on and received a similar reception to that Silva received. If this is his last appearance in the blue shirt at Eastlands remains to be seen.
From then on it was party time. Mancini's side enjoyed the fruits of their labours and the Sky Blues coasted home to victory.
Mancini is one game away from fulfilling his season's targets. The FA Cup is residing at Eastlands and a victory against Bolton on the final game of the season could cap off an excellent season.
For more news on England, visit Goal.com's England section and join Goal.com USA's Facebook fan page!