Hamsik's header won it for the 10-man visitors.
Napoli picked up three vital points after a hard-fought 1-0 victory over Genoa at the Marassi on Saturday evening.
Marek Hamsik's goal midway through the first half gave Napoli their second victory in a row and put them level on points with second-placed Lazio ahead of the remaining Serie A games on Sunday.
The Azzurri were without influential forward Ezequiel Lavezzi, who was nursing an ankle injury, but wasted no time in attacking their hosts as Juan Zuniga's long-range effort was pushed around the post by Eduardo.
The Grifoni had a glorious opportunity to take the lead in the 20th minute when Luca Toni's cushioned header found Marco Rossi all alone in the six-yard box but he inexplicably tapped the ball over the bar with only Morgan De Sanctis to beat.
Rossi's miss came back to haunt the home side four minutes later as Walter Gargano's delicious free kick delivery was met by Marek Hamsik who powered a bullet-header past Eduardo. It was a fine finish from the Slovakian midfielder and a goal that Napoli fully deserved.
The goal seemed to wake Genoa up as Toni muscled Paolo Cannavaro off the ball and sent in a low cross that Rossi wasn't able to stab home.
The Grifoni were starting to get frustrated with some of the decisions that went against them and surrounded the referee before he blew his whistle to end the first half.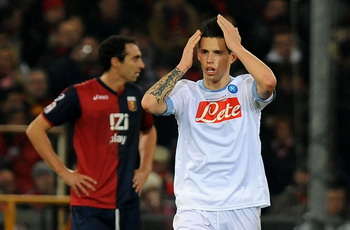 Genoa coach David Ballardini made two changes to start the second half in an effort to light a fire under his team.
It almost paid instant dividends when one of the substitutes Gergely Rudolf whipped in an excellent delivery that found Andrea Ranocchia at the back post but he was unable to keep his header under the bar.
Genoa were enjoying a good 15-minute spell and almost found an equalizer when Rudolf played Giandomenico Mesto through but his low effort flew across the face of goal with no takers. Toni should have put the match on level terms moments later but he couldn't hit the target from close range.
Michele Pazienza then gave the hosts a lifeline when he was shown a second yellow card for a tackle on Omar Milanetto the 85th minute.
Mattia Destro had a half-chance but wasn't able to slip the ball past De Sanctis. Tempers started to flare in the late going but cooler heads did prevail. The hosts attacked in waves to find the equalizer in injury time but the 10-man visitors held on for dear life to pick up the victory.
Keep up to date with Serie A and Italy news with Goal.com's Italy page and join Goal.com USA's Facebook fan page!