East Coast teams tussle.
On Form

Philadelphia Union:
Justin Mapp has settled in nicely since arriving from Chicago. Coming off the bench against New England on Saturday, he engineered the equalizer scored by Jack McInerney and took it upon himself to score the dramatic late winner. Danny Mwanga is not-so-quietly building an impressive case for rookie of the year, and fellow rookie forward Jack McInerney is beginning to come into his own and provide a legitimate late-game threat off the bench. Recent defensive recruit Juan Diego Gonzalez has already proved himself valuable on several occasions, looking composed and commanding in the heart of defense.
Kansas City:
The Wizards are in the midst of a two-game winning streak, dominating the Revolution 4-1 on August 21 and shutting out the vaunted L.A. Galaxy 2-0 a week later. Birahim Diop—making his first start since 2002—scored twice. Davy Arnaud factored in both goals against the Galaxy, scoring one and sending the free kick that set up the other. Keeper Jimmy Nielsen took Save of the Week honors for his stop on the Galaxy's Chris Birchall.

Off Target

Philadelphia Union:
Keeper Chris Seitz is still under heavy criticism from some corners of the Union support. A solid clean-sheet performance by understudy Brad Knighton in the midweek friendly against Chivas will have increased the pressure on Seitz, who remains the only consistent MLS starter not to have recorded a clean sheet this season. Sebastien Le Toux might be disappointed not to have scored from open play since July, although it must be said he has contributed immensely in other ways.
Kansas City:
The Wizards' only negatives lately have been off the pitch. This week it was reported that head coach Peter Vermes was arrested in August on suspicion of driving under the influence. On a less serious—but still quite embarrassing—note, the Wizards announced this week they had to reschedule Sept. 11's game against Houston because the semi-pro T-Bones baseball team have dibs on CommunityAmerica Ballpark.

Tactics

Philadelphia Union:
Alejandro Moreno missed the game against New England on Saturday and the midweek friendly against Chivas, but could be set for a return on Saturday. His inclusion would likely see Le Toux drop back behind Moreno and Mwanga, which means Mapp should start on the other flank. If Moreno is still out, Roger Torres' impressive cameo on Saturday should be enough to secure him a starting spot.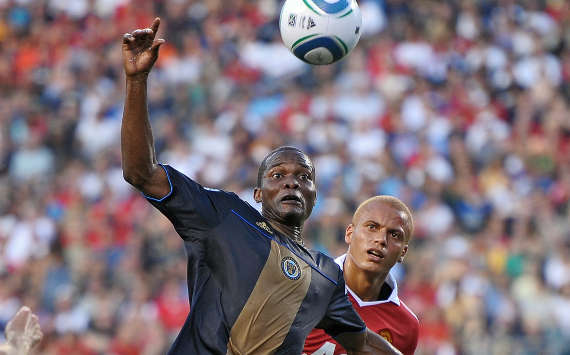 Kansas City:
Vermes has a good problem to have at striker. After being forced to sit a suspended Teal Bunbury for the New England match, Diop started and scored twice. Vermes stayed with the hot Senegal native against L.A., starting Diop and subbing in Bunbury in the 81st minute. Whichever way the coach goes, he knows he'll have a quality substitution in hand for late in the game.
Intangibles

Philadelphia Union:
The mental value of a late win on the road cannot be underestimated. Having lost just one of their last four, the Union are looking to build on their momentum and put together their first pair of back-to-back wins in team history. There's also the small matter of getting revenge for the 2-0 loss the Wizards laid down when these teams met in KC earlier this season.

Kansas City:
The Wizards have been the picture of inconsistency this season. They won their first two games, didn't win again for two months, and have alternated between periods of triumph and futility ever since. Will the good Wizards or the bad Wizards show up at PPL Park on Saturday? It doubtful even they know.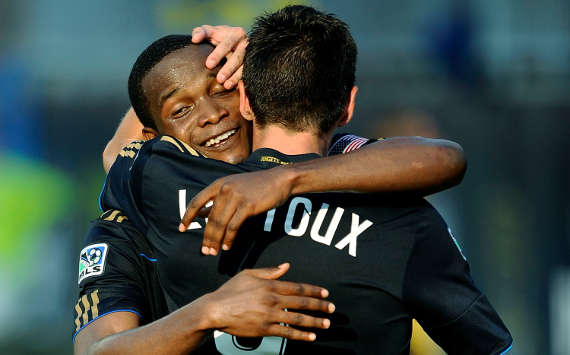 Outcome

Philadelphia Union:
I can see the Union getting a win here. Philadelphia are 3-2-4 at home, and they've often been better than their record suggests, while the Wizards are just 1-6-2 away from CommunityAmerica Ballpark. The Union should be able to score, but they're also almost certain to concede as well. I'm calling it 3-1 to the home team.

Kansas City
: The Wiz are riding a wave, but so is Philadelphia, with Justin Mapp's late winner ending a lengthy winless streak for the Union. Philadelphia 2-2 Kansas City.
For more on Major League Soccer, visit Goal.com's MLS page and join Goal.com USA's Facebook fan page!